At The Supermarket
I remember the first time I picked out Kale at my local supermarket.  It was a summer day and I decided I would cook it for my roommate and I that evening.  Cruising down the aisles, I saw large green bunches underneath a big "Kale" sign.  Other shoppers that put kale in their cart looked happy, healthy and fit.  It was my turn to join the kale club.
"It looks just like romaine lettuce," I thought.  "I heard you could eat it raw in a salad, or at least saute it."
I noticed there were a variety of types.  There was the Tuscan kale which had a bumpy exterior, almost like the skin of a dinosaur (fun fact: it's also called dinosaur kale and that's probably the reason).  Then there was your standard curly kale and even a bright purple kale.
"Awesome!"  I thought, as I grabbed some curly kale and dreamed of how happy and fit I would be in the near future once I ate it.   I felt like a pretty cool Angeleno at that moment.  Kale was a hip vegetable (and still is).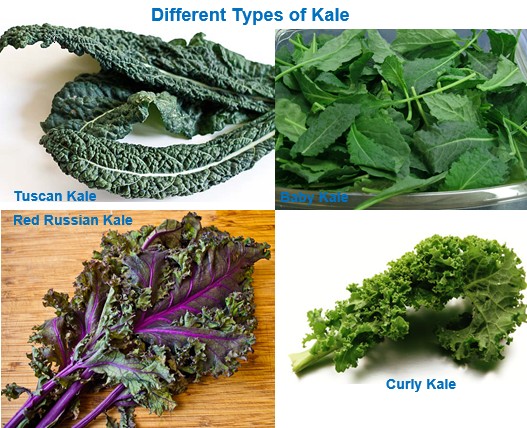 In the Kitchen
I went home and washed and dried all the leaves, which took a surprising amount of time and paper towels.  (Note:  Nowadays I primarily use clean, regular dish towels to wash veggies as it has reduced my use of paper towels a lot).
With kale, you have to cut out the central vein, because it's too tough to eat, and just use the leaves.  Soon I chopped up some garlic, sauteed it in a pan and after a minute added the chopped kale leaves.  I added a bit of water and covered the pan for a few minutes.
I got excited as the time passed.  Soon my timer had gone off and I took off the lid to find… a very small amount of cooked kale.  Literally, an entire bunch of kale had cooked down to what looked like a HANDFUL of food.  I seasoned it with salt, pepper and added a squeeze of lemon and brought it to my roommate paired with roasted salmon and brown rice.  If there was a meal that defined Southern California, it was this one.
I was disheartened before I took a bite…and my roommate could tell.
"All this work for so little food!"  I told my roommate.
"At least it looks good, and it's super healthy," replied my roommate.
"Yeah, but was it worth 45 minutes of work!?  That includes washing, cutting and cooking it all, plus the cleanup."
My roommate took a bite.  "Try it, it tastes good."
I took a bite.  The lemony kick added a nice brightness to the tender kale.
"You're right…but itcould use a bit of Parmesan.  Parmesan makes everything taste better," I said.
I heaped some freshly grated Paremsan on top and the salty, nutty taste of cheese amped up my enjoyment of the kale.
"I could eat this regularly," I said, encouraged by my modification to the dish.
"Dude, if it's so much work," pondered my roommate.  "Why don't you cook 2 or 3 batches at a time.  Buy it in bulk at Costco and cook a few portions."
"Wish I thought of that beforehand…" I said.   "But at least I don't have to do cleanup."  I motioned to the stack of dishes, cutlery and utensils.
"You don't?" said my roommate.
"Yeah that's your job!  Whoever cooks doesn't have to clean."
"What!?"
"Yeah it's the law of the universe, you should know that." I said as I smiled and finished my plate.
How To Make Kale Tasty For Kids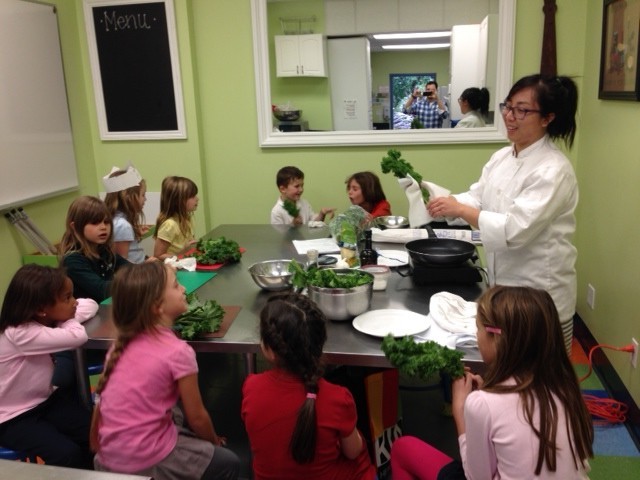 Since that first fateful moment with kale I have tried many varietions of kale and cooked it a number of ways.  My goal was to make it so tasty that picky kids would like to eat it at our cooking summer camp.  After some trial and error, I have found out a recipe that gets kids to eat KALE!
The answer is…
::Drum Roll::
KALE BRUSCHETTA
Why?  The kale is gently sautéed with garlic to give it some flavor, which makes the harshness of raw kale go away.  Then you add a lovely bit of Parmesan cheese.
You could serve it just like that as a vegetable side…but how do you get kids to eat?
The answer:  bruschetta.
Toast some bread, rub it with a garlic clove and add a spoonful of goat cheese on top (or any cheese, but we like the goat cheese) and then place the kale on top.  You now have a very inviting snack with kale.  Take a bite and you'll see how the flavors come together wonderfully.  First you get the tender kale, then a hit of goat cheese and then that delightful crunch of the toasted bread.
When should you serve it?
Try it as a snack when your kids get home from school.  Or better yet, have them help you make it.
Or serve it with dinner with a side of cooked chicken or fish.  You've got carbohydrates, which kids needs as they burn a lot of calories from playing and bouncing off the wall. And in the kale you have vitamin A (for bone growth), K (for healthy blood) Calcium (for bone strength and hardness) and C (for a strong immune system).
The best part?
Kids like this dish!
The Kale Bruschetta Challenge ($20 Discount! For Camp, After-School Classes or a Birthday Party!)
Try this recipe.
In fact, if you make this recipe with your kid, take a picture and send it to me at eric@liftenrichment.com  Subject line "Kale Bruschetta,"  I'll give you a $20 discount* off of a Cooking after-school class, birthday or summer camp.  In the email tell me what it was like when your kids helped make the dish and their response when they took their first bite.
The cost of the bruschetta just paid for itself!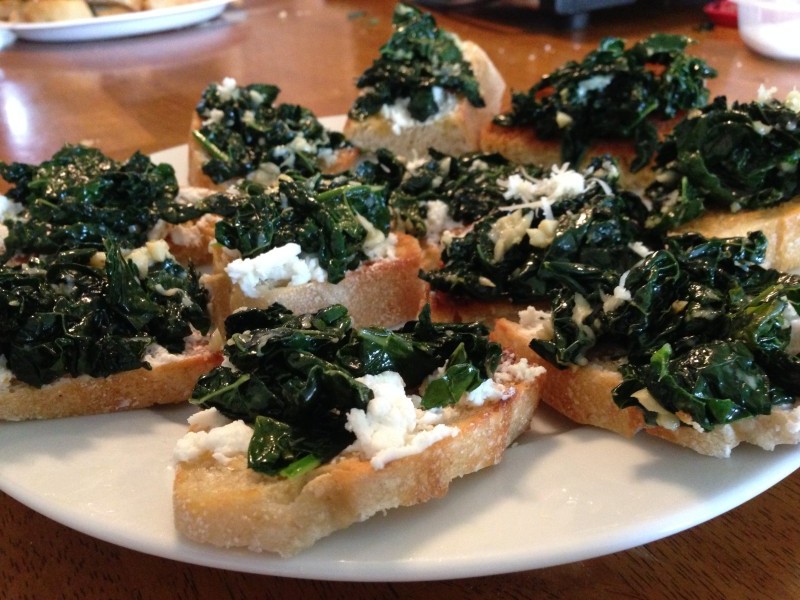 Kale Bruschetta
Active Time:  30 min      –    Start to Finish: 30 min   –     Serves 6
Ingredients
1 rustic baguette, cut into ½" pieces
3 garlic cloves
1 bunch of curly or Tuscan kale
8 oz goat cheese
¼ cup Parmesan cheese, grated
Kosher salt and freshly ground pepper
Extra-virgin olive oil
Water
Directions
Wash the kale under cold water, then pat dry with a towel.  Remove stems, then chop into bite-size pieces, about 1"
Heat a large frying pan with 2 Tbs olive oil over medium-high heat.  Add baguette slices to the pan and toast for 3-4 minutes until golden brown.  Remove baguette slices to a plate and continue with remaining pieces.
Cut 1 piece of garlic in half and use the inside piece to lightly rub the toasted side of the baguette a few times.  Season baguette slices with a small pinch of salt.  Chop up the remaining 2 pieces of garlic
Clean the same pan with a paper towel.  Then add 3 Tbs olive oil over medium heat, the remaining garlic and cook, stirring frequently for 30 seconds.  Add the kale, stir, add ¼ cup of water and cover.  Cook for about 5 minutes, until the kale is tender.  Add salt and pepper to taste.  Remove to a bowl and mix in the Parmesan.
To assemble the bruschetta, add the baguette slices on a plate with the toasted side facing up.  Spread with a bit of goat cheese, then top with kale.  Serve warm.
*Kale Bruschetta Challenge expires Sep 1st, 2015.  $20 Discount must be redeemed by Apr 1 2016.  One per household