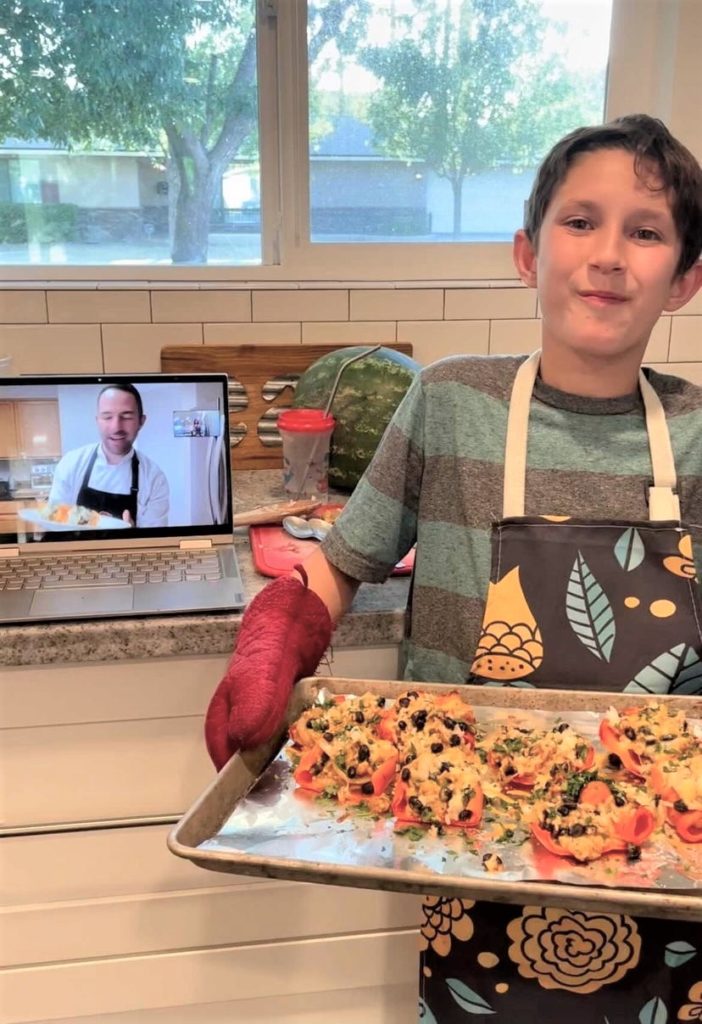 We like to make it EASY for parents to help their kids become independent in the kitchen.
Here's the trick we use to get them cooking: Make the class a GROUP experience and make them ACCOUNTABLE to show up and partake in the lesson.
Tell me if this is familiar.
Your child wants to cook a new dish, or try a recipe.
You put it off for a few days.
Life gets in the way.
You never make the recipe.
The reason is because there wasn't a REASON to make the dish immediately.
But with a cooking class that you invest your money and time into, you know with certainty you and your child will show up READY to cook and learn.
I'm a believer in "The more you pay, the more you pay attention."
If you want to become healthy, put your money where your mouth is and invest in a gym membership, a series of exercise classes and/or a personal trainer.
If you want your child to become independent so he or she can cook a meal on his or her own one day, buy a week of cooking summer camp and we can even ship you the ingredients!
That's the true SECRET to learning a new skill: invest the money, time and be accountable to a good teacher…or in our case…a great CHEF teacher.
Details for our Online Weeklong Summer Camp
=> Signup here with code CAMP to save 10% off of your purchase before July 26
Themes:  Cooking Around The World AND Mangia Italiano
Ages: 8-13
Dates and Times:  Each week is Monday-Thursday, 10:30am-12:00pm PST
Aug 2-6 – Cooking Around The World  
Aug 9 -13 – Mangia Italiano!
Aug 16-20 – Cooking Around The World
Aug 23-27 – Mangia Italiano!
Hours of Instruction:  6  
Siblings are free
Price: $120 per household
Grocery Add-on:  $160 (all fresh ingredients shipped to you)
Recipes:   Cooking Around The World
Monday:  Mexico:  Carne Asada with Cilantro-Lime Marinade, Guacamole and Fajita Veggies
Tuesday:    Chinese: Egg Fried Rice with Chicken (or Tofu) and Crispy Veggie Egg Rolls
Wednesday:  Dessert!  American:  Red Velvet Cupcakes with Cream Cheese Frosting
Thursday:  Greek:  Homemade Pita Bread, Greek Salad and Mediterranean Beef 
Recipes: Mangia italiano!
Monday:   Tomato-Basil Bruschetta with Mixed Green Salad and Fresh Mozzarella
Tuesday:  Grilled Chicken Caesar Salad with Lemon-Parmesan Dressing and Homemade Croutons
Wednesday:  Dessert!  Kid-Friendly Tiramisu with Ladyfinger Cookies & Mascarpone Cream
Thursday:  Baked Meatballs with Spaghetti Marinara
=> Signup here with code CAMP to save 10% off of your purchase before July 26