Do kids know the true color of cheddar cheese?
Sadly, no.  They think it's orange!  But that's not true.
This Fall our chef teachers will teach kids the truth behind cheddar cheese, how it became orange and how to make a tasty Grilled Cheese with Broccoli Slaw.
==>  Join the cooking class for kids that teaches kids the truth behind cheddar
Our current session theme is American Favorites and features Cooking classes focused on getting kids to explore classic dishes they know, often with a vegetable twist.  Featured recipes include Veggie Mac and Cheese, Kale Bruschetta, Cauliflower Rice with Veggies, All-American Breakfast, Chocolate Pancakes with Whipped Cream and more!
One kid favorite is: Grilled Cheese with Broccoli Slaw
Grilled Cheese with Broccoli Slaw.  It's a piping hot grilled cheese sandwich made just the way you like it, served with a spin on coleslaw.  Instead of using cabbage as the main ingredient, we add nutrient-dense broccoli florets and flavor it with a sauce made of Greek yogurt, mayo, vinegar, salt, pepper and a bit of sugar.  The creamy sauce coats the broccoli and elevates the vegetable in a new way that kids like it.
Here's what one 4th grade girl said about the slaw last Friday at one of our school in the San Fernando Valley:
"I don't like salad, I don't like slaw, but that salad is amazing."
Below is the recipe for our broccoli slaw, but first let's get back to learning about cheese.
Cheddar Cheese Is Not Naturally Orange
Yep, it's true.
It's actually a pale white color that looks like this: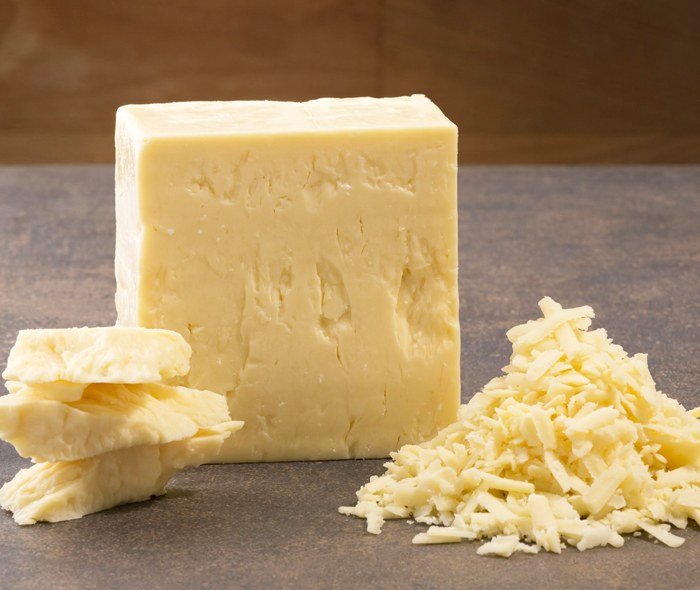 Cheddar is originally from Cheddar, England.
How did it become orange?
Think about it, do cows produce orange milk?
NO
All cheeses are naturally white or a slightly golden color.
The man behind turning cheddar orange is James L. Kraft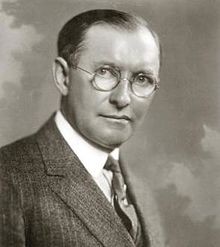 Does that name sound familiar?
He is the brains behind the Kraft Cheese empire that has popularized American Kraft Singles, Velvetta, Miracle Whip and Instant Mac and Cheese ("Just add hot water!")
In 1916, Kraft patented the process of pasteurizing cheese.   This allowed cheese to travel long distances without spoiling.  His company grew quickly, particularly during World War I when the United States provided cheese to its troops in tin cans.
Later in the 1950s, Kraft dyed it's popular cheese orange because they thought the color would appeal to kids and parents.  The company mass marketed orange cheese slices as an easy and affordable way to feed families.
How does it become orange?
The Annatto seed, gives cheese it's characteristic orange color
Once Kraft's American cheese singles became popular, other manufacturers of cheddar dyed their cheese orange so people would buy them.  You can still find cheddar cheese in the gourmet aisle of grocery stores in it's natural pale white color.
In our cooking after-school classes, we ONLY use real cheddar cheese.
It's got more flavor and it's better for kids than processed American cheese slices.
How do kids respond to learning that cheddar cheese is not really orange?
They are shocked!  I've seen kids gasp when learning the truth.
If you'd like your kids to learn the truth about cheddar and make Veggie Mac and Cheese, Kale Bruschetta and Cauliflower Rice, join our cooking class here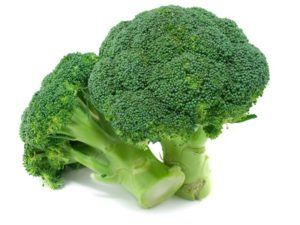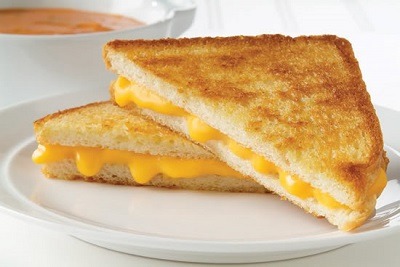 Here's our Recipe for Grilled Cheese with Broccoli Slaw
Grilled Cheese
Active time:10 mins  Start to finish: 15 mins Serves: 4
Get your grilled cheese on with this delicious sandwich recipe!
Ingredients:
8 whole wheat bread slices
8 cheddar cheese slices
4 Tbs unsalted butter
Directions:
Preheat a medium-size frying pan over medium heat.  Generously butter one side of each slice of bread.  Place a bread slice butter-side down, add 2 slices of cheese and top with a slice of bread butter-side up.  Repeat to make 4 sandwiches
Add sandwich to hot pan and cook until lightly browned, about 2 minutes per side.  In a 12" frying pan you can cook about 2-3 at a time.
Remove from pan, cut in half diagonally and serve warm.
Broccoli Slaw
Active Time:  30 min      –    Start to Finish:  30 minutes   –     Makes 8 servings
Crisp broccoli and a flavorful dressing makes this side dish popular for kids.
Ingredients
2 large bunches broccoli
¼ cup Greek yogurt
¼ cup mayonnaise
3 tbsp. white or red wine vinegar
2 tsp sugar
½ tsp salt
Ground black pepper
½ cup finely chopped red onion
Directions.
Use your hands to remove the florets of the broccoli, then cut the florets into small pieces.  For the stem, you can cut it into thin slices, about ¼" thick.
In a small bowl, whisk together yogurt, mayo, vinegar, sugar, salt and pepper.  In a large bowl, add broccoli, red onion and toss with dressing to coat.  Taste and adjust seasoning as needed.  Cover with plastic wrap and chill for 20-30 minutes for all the flavors to come together.  Serve chilled or at room temperature.