Tzatziki, Veggies & Pita Chips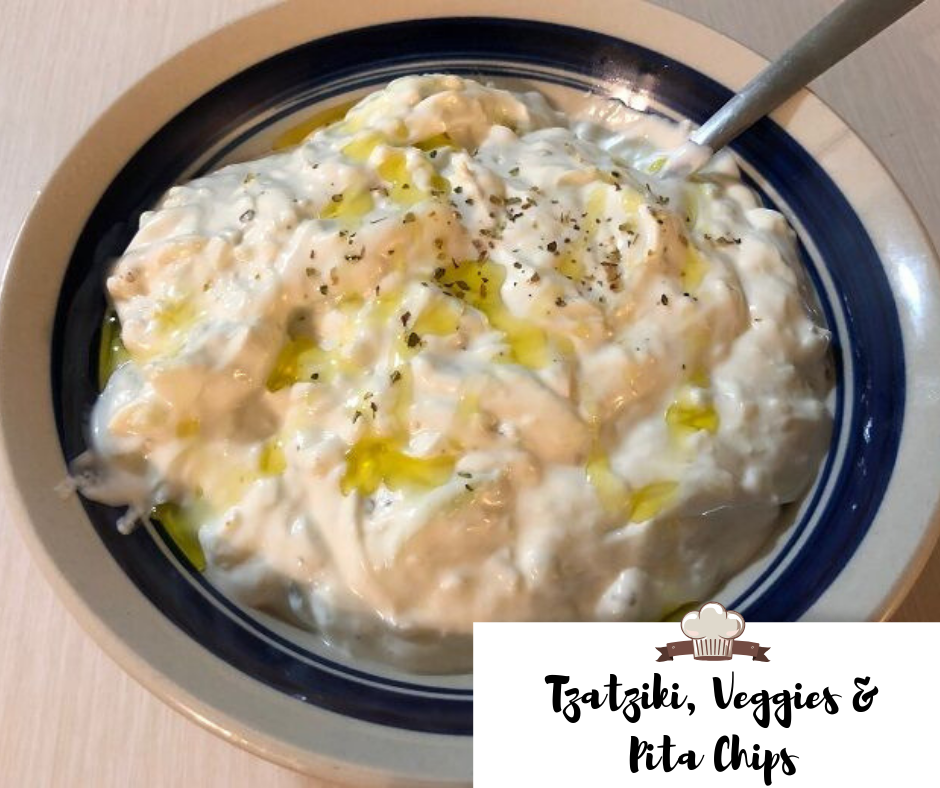 Tzatziki is a creamy and slightly tangy cucumber dip that perfectly complements grilled meats and vegetables. It's delicious with fresh veggies and toasted pita chips.
Active Time: 20 min – Start to Finish: 40 min
Ingredients:
4 cups (1 quart) Greek Yogurt (ideally full fat, if you can't find it then go for 2% fat)
1 large cucumber, peeled
3 garlic cloves, finely chopped
2 lemons
2 tsp dried oregano
Veggies to Dip: 2 red bell peppers sliced, 2 large cucumbers sliced, 5 carrots, chopped into strips
10 Pita breads, sliced into triangles
Extra-virgin Olive Oil & Red Wine Vinegar
Kosher Salt & Pepper
Directions
Make In Advance
Grate the entire cucumber, then use your hands to squeeze as much of the water out of it as possible, then place half in a large bowl and half for later
Add 2 cups Greek yogurt, 2 chopped garlic cloves, 2 Tbs olive oil, Juice of 1 fresh lemon, 1 Tbs vinegar, 1 tsp dried oregano, 1 ½ tsp salt, black pepper and stir. Taste and see if it needs a bit more salt or a bit more of tang from the vinegar. Cover with plastic wrap and let rest for 15-30 minutes or overnight. Taste and adjust the seasoning as it will have a new, creamy essence.
Make At The Kid Restaurant
Repeat the same process as above, with students helping make this delicious sauce! If everything is ready, it only takes a few minutes to assemble.
Pita Chips
In a pan over medium heat, add 3 Tbs olive oil and one layer of the sliced pita. Add a bit of fresh garlic and season with 1 tsp salt, black pepper and pinch of oregano. Toast for 2 minutes on each side until the pita is lightly browned. Continue with remaining pita.
Serve a plate with a scoop of tzatziki, veggies and pita chips.