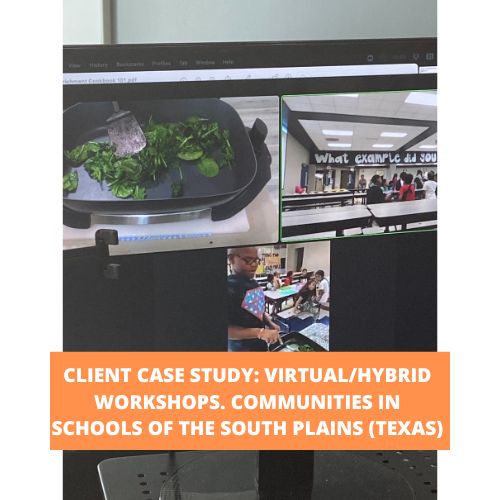 What if I told you that LIFT Enrichment taught 80+ hours of culinary workshops to 400+ students in Texas this past Summer…and it was both LIVE in-person and also on Zoom?
And get this: The Chef Teacher who lead most of the classes was located in Boise, Idaho and she taught each workshop, which had 20 students and 2 instructors in each group, using our equipment and ingredients that we shipped to them!
This client is a perfect example of our Virtual/Hybrid Healthy Culinary Workshops
We call them "virtual/hybrid" because they are :
"Virtual" because they are taught on Zoom with the Chef Teacher live on camera on a big screen so you can see his/her culinary techniques throughout the entire 1 hour class.
And "Hybrid" because this is an "in-person" workshop for all of the students in the workshop. They were participating in their summer program and we sent them the culinary kit and fresh ingredients/supplies every week. Then they would meet with the Chef Teacher at the appointed time to cook. The Chef Teacher could also see the students AND their electric skillet live using a laptop camera and a phone camera on a stand.
It's cool because for the students it was like experiencing a live cooking show, where the Chef Teacher can interact with the students. Plus since we could see the instructors on the sites cooking along with us, we knew how to provide feedback and help them through the cooking process.
Communities in Schools of the South Plains (link to their website) services dozens of schools in Lubbock and Plainview, Texas. These sites had a summer program that was free to their students, and our virtual/hybrid culinary workshops were a fun part of their weekly activities. We worked with 11 of their sites and taught 22 groups for 4 weeks. Each group did a class with us once a week.
Here's what some of them are saying:
"We had your classes for our summer program and my kids loved it!" – Kyle Robles, Site Coordinator, Ralls Elementary – Communities in Schools of the South Plains

The Challenge: Shipping ingredients to schools in more rural parts of Texas
One unique challenge was that we couldn't use Instacart to ship ingredients to each site. We tried to send large orders of food to the office headquarters, but when you have purchase orders that require 22 heads of cauliflower all arriving at one time…most super markets can't handle it!
We found a creative solution: There were local Walmarts that each site could send one coordinator to pickup an order at different times. The logistics had to be detailed so each site got only their ingredients. Plus Walmart is very particular that the correct person on the invoice is picking up the order and no one else.

Staffing 88 Hours of Virtual/Hybrid Workshops
Here's the kinda funny thing about a Virtual/Hybrid workshop. When our Chef Teacher cooks LIVE with the clients, they are making their OWN batch of the recipe. The client makes their portion to share with the students, while the Chef Teacher makes her portion to eat at home! Sometimes a Chef might make 4 large servings of Pasta Primavera (link to recipe) a DAY.
They can definitely eat that food for dinner, but most will share it with their friends and families! It's pretty cool that you can get paid to teach healthy cooking AND your dinner is included.
My team was shipping a LOT of ingredients during the month of June and my credit card got a workout on Instacart, Amazon and Walmart.com
It took a team of 4 Chef Teachers (including me for a few lessons!) These included Chef Angel, Daniela, Lindsey and myself. Angel taught over half the lessons on her own from Idaho, while Daniela and Lindsey were in San Diego and I was in Phoenix.
I enjoyed teaching a few workshops because then I got to eat the food…plus I didn't have to leave the comfort of my home!

How We Met CISSP: BOOST 2022 Conference
We met CISSP (an easy-to-use acronym for their program ☺) at the BOOST Conference in Palm Springs in April 2022. Stephanie Lopez, one of the directors, came to our booth at the exhibit hall, we chatted for maybe 10 minutes and setup a meeting to talk the following week. After a few meetings, we had a proposal ready to go and work soon began!
This conference has been a key part of our marketing efforts, and has yielded over 500+ hours of workshops, both in-person and virtual/hybrid.
One cool thing we do at BOOST is invite our clients to a VIP Luxury Steakhouse Dinner! This year it was a group of 10 at the Agua Caliente Casino Steakhouse and about half were returning clients and half prospective clients. It was a swanky affair and we had cocktails, appetizers, entrees and pretty much every type of dessert. The guests really liked it because it was a fun and casual way to network with other after-school directors to learn more how other organize, run and prepare their programing for the year
This next year we'll probably host at least 20-30 guests at this steakhouse dinner.

Funny Side Story: How To CORRECTLY use a Credit Card To Pay For An Expensive Networking Dinner
Really quick side story for ya: At the steakhouse dinner everyone had a great time. When the check came, the waiter came up and I presented my business debit card. He came back a few minutes later and in front of everyone politely said, "Excuse me sir, your card has been declined."
My heart skipped a beat, I smiled at the group and said "Give me just a minute" and quickly left with the waiter. One of the guests even texted me ,"Is everything ok?"
I knew I had the cash in the bank…but what was the issue?
Chase had declined the charge because it was an "unusually high" purchase! They didn't ask me in advance or anything. I called them, cleared the charge and my card worked.
Lesson: If you're gonna buy an expensive dinner at a conference be sure to 1). Call your bank in advance so they know about it and 2) Take care of the check away from the table, even if you have to "go to the bathroom" to take care of it all.
It was a funny moment, but not one I'd like to repeat ☺

How to Bring Virtual/Hybrid Culinary Workshops to Your program
This type of program is for schools that are anywhere in the US and particularly in more rural areas. Currently, we only offer in-person classes near metropolitan areas of California, Arizona and Nevada, so this virtual/hybrid model worked out well for CISSP and their 400+ students in their summer program.
We currently charge $450 per 1-hour workshop for 20 students, and that includes everything including fresh ingredients, serving supplies, the Chef Teacher, the Chef teacher's ingredients/supplies and all of the backend help and coordination. There is also a one-time supply kit fee of $500 so each site has all the tools they need (including cutting board, electric skillet, utensils, etc.). CISSP booked 88 hours of workshops and they all went very well. (minimum bookings are at least 20 workshops at the moment)
Reach out to us at info@liftenrichment.com or call (310) 890-8704 and we can get your students experiencing Healthy, Educational and FUN virtual/hybrid culinary workshops this upcoming school year or summer!

Get Cooking,
Chef Eric Horwitz