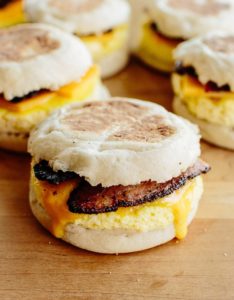 This recipe SAVED me yesterday, today and the day before when it comes to a quick and healthy breakfast.
And I KNOW it can help you, a busy parent, who has children who need to eat something nutritious every morning.
I just got back from Nasvhille, a quick vacation with my fiance Liz (check out our Instagram story to see highlights) and didn't get back until 11:30pm on Tuesday night. 
On Wednesday morning I found myself in front of 400+ emails from my inbox, and I knew the day would be a long one (and it was.)
Without any time to grocery shop or make food in the morning, I fortunately had these saviors in the fridge
Make-Ahead HEALTHY "Mcdonalds-style" Sausage, Egg and Cheese Breakfast Sandwiches

Ingredients: (for 6 sandwiches):  6 whole wheat English muffins, 6 eggs, 2 Tbs cheddar cheese, grated, 6 pork sausage patties (you can find them frozen, or make your own, or fry some turkey bacon)
Directions:  Slice the english muffins in half and start toasting them using a toaster in batches.  In a large frying pan, add some oil or unsalted butter and crack 3 eggs in opposite corners of the pan.  Break the yolk with a wooden spoon, season with salt and pepper and cook for about 2 minutes.  Flip the eggs, sprinkle with cheese and cook for 30 seconds.  Remove to a plate and continue with the remaining eggs.  Fry the pork sausage patties (get the ones that are fully cooked) until they are warmed OR  cook some turkey bacon, then remove to a paper-towel lined plate.
Make your sandwich:  Place 1 patty (or 1-2 bacon slices) and 1 egg between each bun.  Wrap each with tin foil individually and freeze.
In the morning: Remove a breakfast sandwich from the tin foil and wrap with a damp paper towel, then microwave for 3 minutes, until warmed through.  Remove the paper towel and let cool for 1 minutes before serving.
Alternate route:  Heat an oven to 350 F and place each breakfast sandwiches heat wrapped in tin foil on a sheet pan for about 20-25 minutes until warmed.  Great on a weekend!
The beauty of these sandwiches is they're only about 400 calories, and are a great way to keep you full until lunchtime while getting some healthy protein and fiber.
TRY OUT THESE BREAKFAST SANDWICHES!
And if you're still reading, here are some quick restaurant reviews from Nasvhille
(Btw, I'm definitely one of those "live to eat" rather than "eat to live" types…if you couldn't tell.)
Highs:
"Etch" an upscale restaurant in the heart of Nashville is run by the city's first female executive chef Deb Paquette and we had a great meal.  We started with the "Roasted Cauliflower," which is their well-known appetizer made of crispy Cauliflower dressed with a bit of truffle oil and served alongside a pea puree (as a sauce.)  Service throughout the meal featured "Southern hospitality" at it's finest, with particular shout outs to the sommelier that brought us a tasty Malbec that paired well with the Lamb loin and Venison entrees.  The only issue was that both dishes came out a bit cold, and the kitchen quickly made fresh (and hot) plates for us.  We could see in the waiter's eyes that this might be happening more frequently, than he liked.  The meal ended with a "Fall" sundae of pumpkin ice cream, rice krispy treat and homemade caramel that tasted the way Nashville looked (in the Fall).
"Martin's Bar-B-Que Joint" is at the top of most bbq joints for a reason.  It has great sauces, fast service, and brisket and ribs to remember.  (Tip: Get the ribs with dry spices and the sauce on the side).  Good mac and cheese as well…but why do the green beans have pork in them??
Lows:  (or more like in the "middle")
"Kayne Prime" one of the one of the top steakhouses in the nation (according to Thrillist) but our experience was a solid B, that could have been an A.  We weren't super hungry because of a late lunch we had, and decided to not order an appetizer.  However, it took 50+ minutes for our entrees to come out.  When they arrived, order had been restored thanks to a delicious Duck that Liz had and a nicely cooked filet mignon for myself, paired with spicy broccoli and "risotto tater tots" (yes, you read that correctly).  My main question, was why they turned cream of corn into "crem brulee"?  Them, towards the end of the meal, flies appeared at our table.  Plus for our anniversary celebration, they gave us a card instead of a dessert…which is pretty standard at good steakhouses.
(Btw, BOA in Santa Monica has the best birthday/anniversary dessert I've ever had, with a sparkler on top!)
"Hattie B's Hot Chicken"
On a Saturday night, Liz and I were in line for 1 hr and 15 minutes to try this famous spot.  The restaurant had only one cashier and once we actually ordered, the food came quickly, in about 10 minutes.  The problem was the longggg wait to get the food!  Sides were ok, but the chicken did have great spices (we got Medium) and was super juicy and moist.
(Side Note:  Crackshack in Century City has the best fried chicken sandwich ever!)
Anyway, enough talk about food, I have to call 2 chefs teachers and work on the cookbook for the Winter session, which has an Asian theme!  Sushi hand rolls, cauliflower rice, healthy orange chicken and soooo much more.
Plus, final reminder to stay on the look out for a course I've created that will transform your child's health, empower them with culinary confidence and give you extra time each week so you don't have to cook every week night.
Have a good weekend!
Best,
Best,
Chef Eric
CEO / Head Chef of LIFT Enrichment, Inc
www.LIFTenrichment.com   Instagram::  @liftenrichment