Happy Friday! We've got a tasty recipe for your weekend dinner when you want something QUICK and EASY.

This taco recipe was a fun lesson in the past and we got to explore the foods of Bobby Flay.
I personally love his shows including Bobby Flay Throwdown and Next Food Network Star.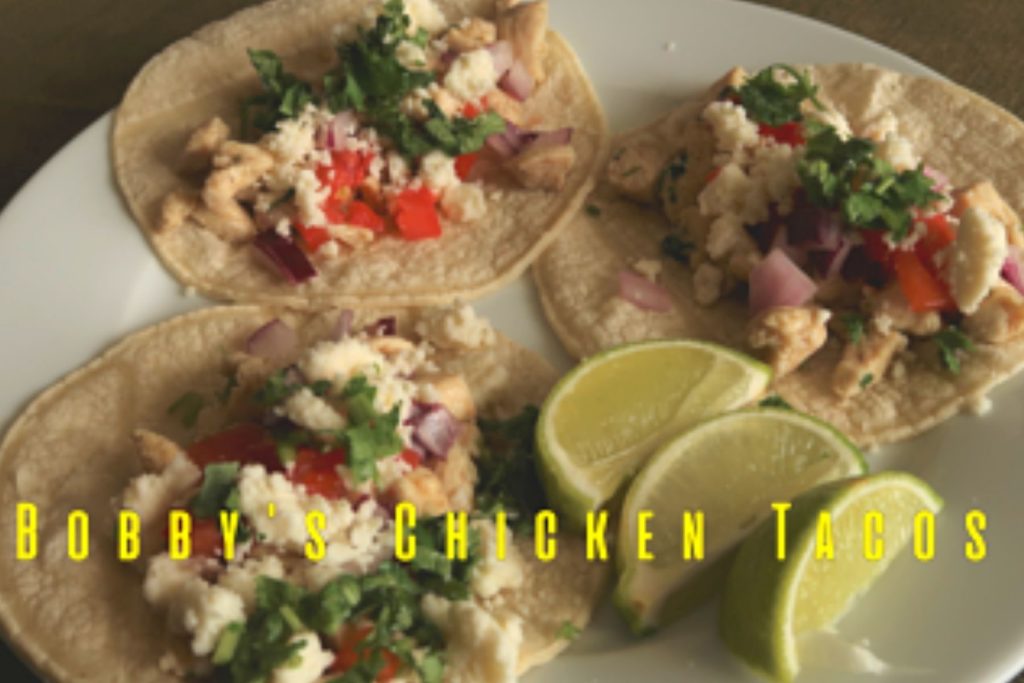 Active Time: 20 min – Start to Finish: 30 min – Serves: 12
Ingredients

3 lb boneless, skinless chicken breast
1 14-oz can black beans, rinsed and drained
1 14-oz can yellow corn, rinsed and drained
1 red onion, chopped
5 roma tomatoes, chopped
1 cup fresh cilantro, chopped
1 cup queso fresco, crumbled
24 corn tortillas
4 limes, cut into wedges
3 tsp cumin
Extra-virgin olive oil Kosher salt & black pepper

Directions:

Cut the chicken breasts into 1" cubes. Season chicken with 3 tsp salt, pepper, juice of 1 lime and 1 tsp cumin. Heat a large pan over medium-high heat, add 2 Tbs oil, then add half the chicken and cook for 3-4 minutes on each side, until fully cooked. Remove to a large bowl, add ¼ cup cilantro, juice of 1 lime and stir. Continue with second batch of chicken. Let cooked chicken cool for 10-20 minutes.

Use two metal forks and pull apart the chicken until it's nicely shredded.

Combine the black beans, corn, 2 Tbs cilantro, pinch of salt and pepper and juice of half a lime in a bowl. In separate bowls place the chopped tomatoes, cilantro, onions, and queso fresco.

In a large pan over medium heat, add the corn tortilla 6-8 at a time for 1 minute until warmed. This helps make the tortillas able to fold up around the meat.

Top the tortillas as you like it with shredded chicken, black beans, corn, onions, tomatoes, cilantro and queso fresco. Serve warm with lime wedges.

If you'd like your kids to learn to make quick and easy healthy recipes plus more of their favorites foods, and create a memory bonding in the kitchen, join today at Kids Can Cook Inner Circle.

Once you join:

As a member you'll get:
Access to our weekly LIVE 60-minute weekly healthy dinner cooking class taught by our awesome Chef Teachers
Access to the gourmet dessert lesson: taught by me!
Access to the gourmet dinner class I teach: Healthy In-N-Out Lean Double-Double Burger & Lettuce Wrap (also taught by me!)
100+ of our best recipes over the last 10 months
Complimentary aprons to wear for kids and parents
Video tutorials of all of our recipes
Plus siblings are free, it's a monthly program with no contract and you have a 30-day money back guarantee!

Join today at www.kidscancookinnercircle.com

Get Cooking,
Chef Eric Horwitz