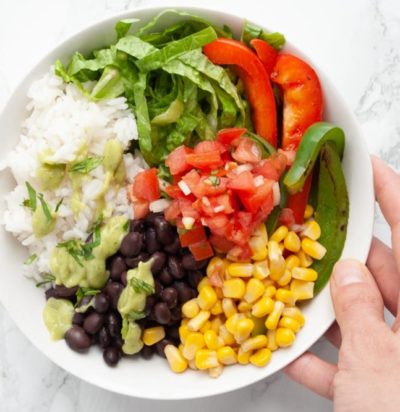 Happy Friday! Here's a fun recipe on how to make an easy and healthy "burrito bowl," similar to one you might get from Chipotle.
Cooking a recipe at home, on your own, can be fun, but in a group cooking class it's
Interactive!  You can talk to the Chef teacher and get feedback
Fun!  Cooking with a group is way more enjoyable than doing it all on your own
Helping to have ACCOUNTABILITY!  Life gets busy fast, but if you know there's a structured lesson happening on Tuesdays from 5pm-6pm, you'll actually make the effor to attend.
=>  Experience an interactive and fun live cooking class with our Chef Teachers, here
"Chipotle" Burrito Bowl with Cilantro-Lime Rice, Black Bean, and Veggies
Tonight, you are going to learn how to build your own Chipotle Burrito Bowl at home! It combines a lot of classic ingredients, including a delicious rice to make a healthy and meat-free entrée kids will enjoy.
Active Time: 15 min Start to Finish: 40 min Serves: 4
Ingredients:
2 cup Jasmine rice, rinsed
1 red bell pepper, sliced
1 green bell pepper sliced
½ onion sliced
2 garlic cloves, chopped
2 limes
1 cup mozzarella cheese, freshly grated
1 16-oz can black beans, rinsed and drained
1 16-oz can corn, rinsed and drained
1/2 head of romaine lettuce, chopped
½ cup fresh cilantro, chopped
Chili powder
Extra-virgin olive oil
Kosher Salt and freshly ground pepper

Directions:In a pot add rice, 4 cups of water, zest of the lime, 1 tsp salt and then cover, bring to a boil and reduce to a simmer for 15-20 minutes until done. Fluff with a fork, add juice of 1 lime, ¼ cup cilantro and mix well.

In a large frying pan over medium-high heat, add 2 Tbs oil and bell peppers, onions, 1 chopped garlic clove and pinch of salt and cook for 4-6 minutes until softened. Remove veggies, add 1 Tbs oil and a bit of garlic and saute for 30 seconds, add the black bean and corn and stir until heated, seasoning with salt and pepper. Make your bowl by layering the rice, then lettuce, 1 tsp chili powder, black beans and corn, veggies, cilantro and enjoy!
=> Experience an interactive and fun live cooking class with our Chef Teachers, here
Get Cooking,
Chef Eric Horwitz
(310) 890-8704 – Eric@LIFTenrichment.com
www.LIFTenrichment.com | www.KidsCanCookInnerCircle.com