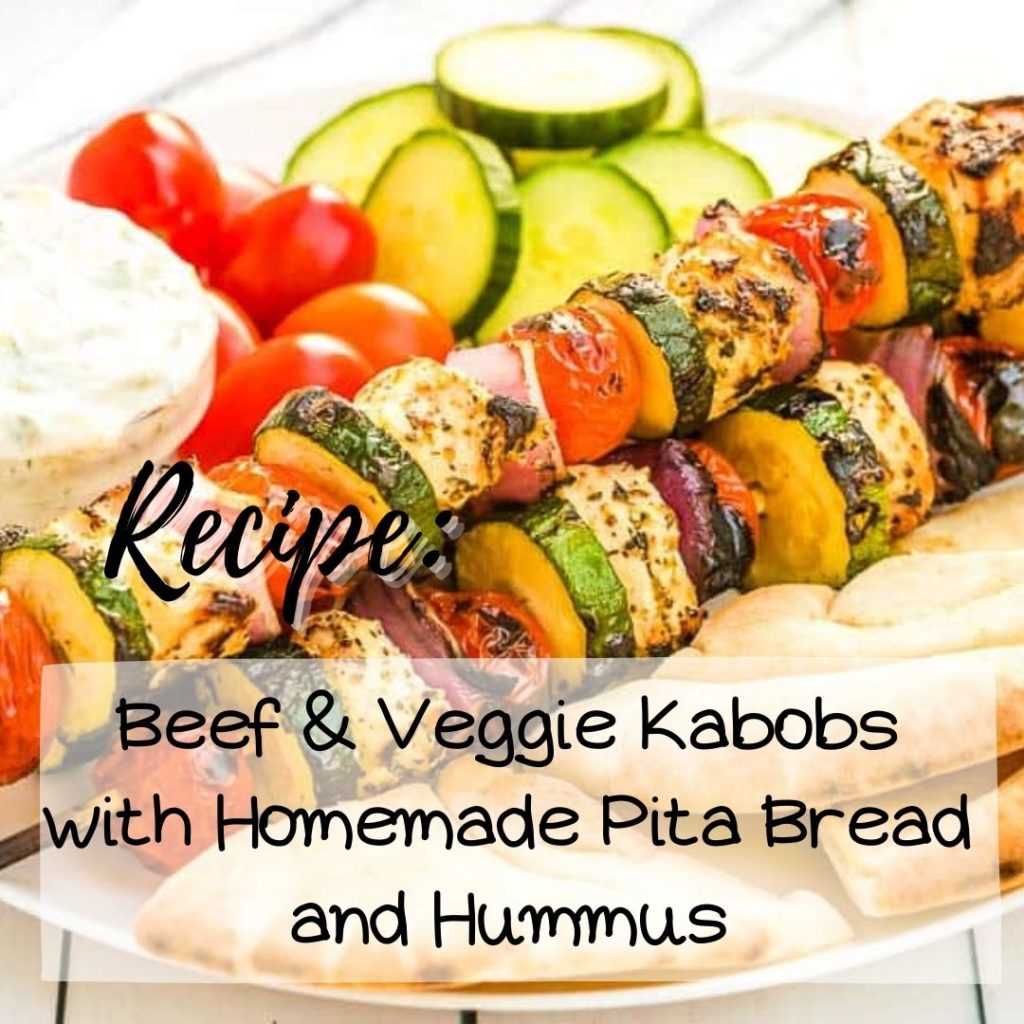 Grilled Shish kabobs are a great and easy dinner that kids enjoy making because it's fun to assemble the kebabs using steak and vegetables! It's even better with hummus and homemade pita bread

Active Time: 40 min – Start to Finish: 1 hour Serves 4
Ingredients – Kabobs
1.5 lb. beef sirloin cut into 1" cubes (Vegetarians: Use tofu)
1 cup cherry tomatoes
1 tsp oregano
Juice of 1 lemon
4 sprigs of thyme
¼ cup Extra-virgin olive oil
2 Tbs red wine vinegar
Kosher salt and freshly ground pepper
Equipment: Long bamboo skewers for shish kabobs

Ingredients – Pita Bread
1.5 cups warm tap water
1 envelope or 2 ¼ tsp active dry yeast
1 tsp granulated sugar
3 cup all-purpose flour + extra for kneading
2 tsp salt
1 Tbs olive oil

Ingredients – Hummus 1
14-oz. cans chickpeas, drained
Juice of 1 lemon
1 garlic clove, chopped
¼ cup tahini (sesame paste, or you can use peanut butter)
Extra virgin olive oil
1 tsp dried oregano
Kosher salt and black pepper

Directions for the Kabobs
Combine the olive oil, lemon juice, red wine vinegar, oregano, thyme leaves and a big pinch of salt and pepper in a bowl. Add the steak pieces and marinate for at least 15 minutes or overnight.

Layer the skewers with steak, onion, bell peppers, and tomatoes. Brush each kebab with leftover marinade. Season with a pinch of salt.

Heat a large pan with 1 Tbs of olive oil or heat a grill over medium-high heat. Cook the kebabs for 4 minutes, then flip and cook for an additional 4 minutes. You can keep them warm in an oven at 250 degrees F while you make the other sides.

Directions for the Pita Bread
Mix the yeast in ½ cup of warm tap water and stir in the sugar. Let sit for 10 minutes, until it's creamy and frothy.

In a bowl, combine flour and salt. Make a well in the center and add the yeast mixture plus 1 cup of warm water. Use a fork to combine, then knead on a floured surface for 8-10 minutes until it's smooth and elastic. Shape into a ball, and place in a bowl. Rub the dough with the olive oil, then cover the bowl with Saran wrap, and a towel and let rest in a warm spot for 10 minutes, but ideally 1-1.5 hours until doubled in size. For this class, you don't have to let it rise completely.

Divide dough into 8 pieces and shape each into a ball. On a floured surface use your hands or a rolling pin to gently shape the dough into 5-6" wide circles. Keep rolled out dough covered with a towel so they don't dry out. In a dry pan over medium heat, add the pita bread one at a time for about 4-6 minutes, flipping halfway until golden brown on both sides. Remove to a plate and continue.

Directions for the hummus:
Add the drained chickpeas to a food processor and 1 tsp oregano, lemon juice, 2 Tbs olive oil, 2 Tbs water, 1 1⁄2 tsp salt and pepper. Taste and adjust seasoning, adding 1 Tbs of water at a time until the consistency is smooth. Set aside.

Serve warm pita with the grilled meats and hummus.