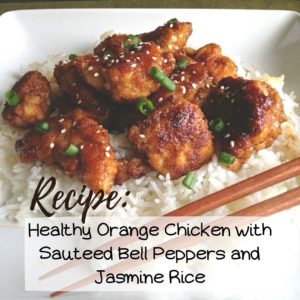 This is a Chinese Classic made of juicy pieces of chicken coated with a delicious salt-and-sweet orange sauce.
Our version is lighter because we substitute chicken breast for chicken thighs, and lightly cook the chicken in a bit of oil rather than deep fry. Plus our sauce is super fresh and tasty!
Active Time: 15 min Start to Finish: 40 min. Serves: 4
Ingredients
2 cups Jasmine Rice
1 onion, sliced
1 red bell pepper, sliced
1 cup sugar snap peas
½ cup all-purpose flour
3 eggs, whisked
1 cup breadcrumbs
1 ½ lb boneless, skinless chicken breast, cut into bite-size pieces
1 garlic clove, chopped
2 cups orange juice
3 Tbs sugar
2 Tbs soy sauce
1 Tbs cornstarch
¼ cup green onion, chopped
Vegetable or Canola oil, for frying
Kosher salt
For Vegetarians: 1 block tofu cut into bite-size pieces for vegetarians
Directions
Start with the rice. Rinse with cold water. Add to a rice cooker or large pot with 4 cups of water and 2 cups of rice. Bring to a boil and simmer for 15-20 minutes. While that's happening, start with the chicken. Chop the chicken into bite-size pieces.

Place the flour, eggs, and breadcrumbs into three separate bowls. Season chicken with a pinch of salt. Take a handful of the chicken pieces and place them in the flour, while making sure to coat each piece evenly. Dust off the excess flour and put them in the egg mixture to coat. Next, put the chicken pieces into the breadcrumbs, shake off the excess and remove to a plate. Continue until all chicken is breaded. (For vegetarians you can repeat this process with tofu).

Heat about 4 Tbs oil in a large sauté pan over medium heat. When the oil is hot, add the chicken pieces in small batches and fry until golden brown on both sides, about 4 minutes, flipping halfway. Remove to a paper towellined plate and repeat until all of the chicken is cooked. (This same process works for the breaded tofu). Season with a small pinch of salt.

Wipe pan clean, then add 2 Tbs oil over medium-high heat and add the slices onion and bell peppers with a pinch of salt and cook for about 4-6 minutes. Add the sugar snap peas, 1 Tbs soy sauce and cook for an additional 2-3 minutes until the snap peas are slightly cooked. Remove to a bowl.

In a bowl, mix the orange juice, sugar, soy sauce and cornstarch. Clean the pan and add 1 Tbs oil over medium high heat. Add the garlic and half the green onions and cook for 30 seconds. Add the orange juice mixture and cook for 3-4 minutes until it is reduced and slightly thickened. Add the chicken to the sauce and stir to coat. Serve orange chicken on the rice with a side of vegetables and garnished with green onions.