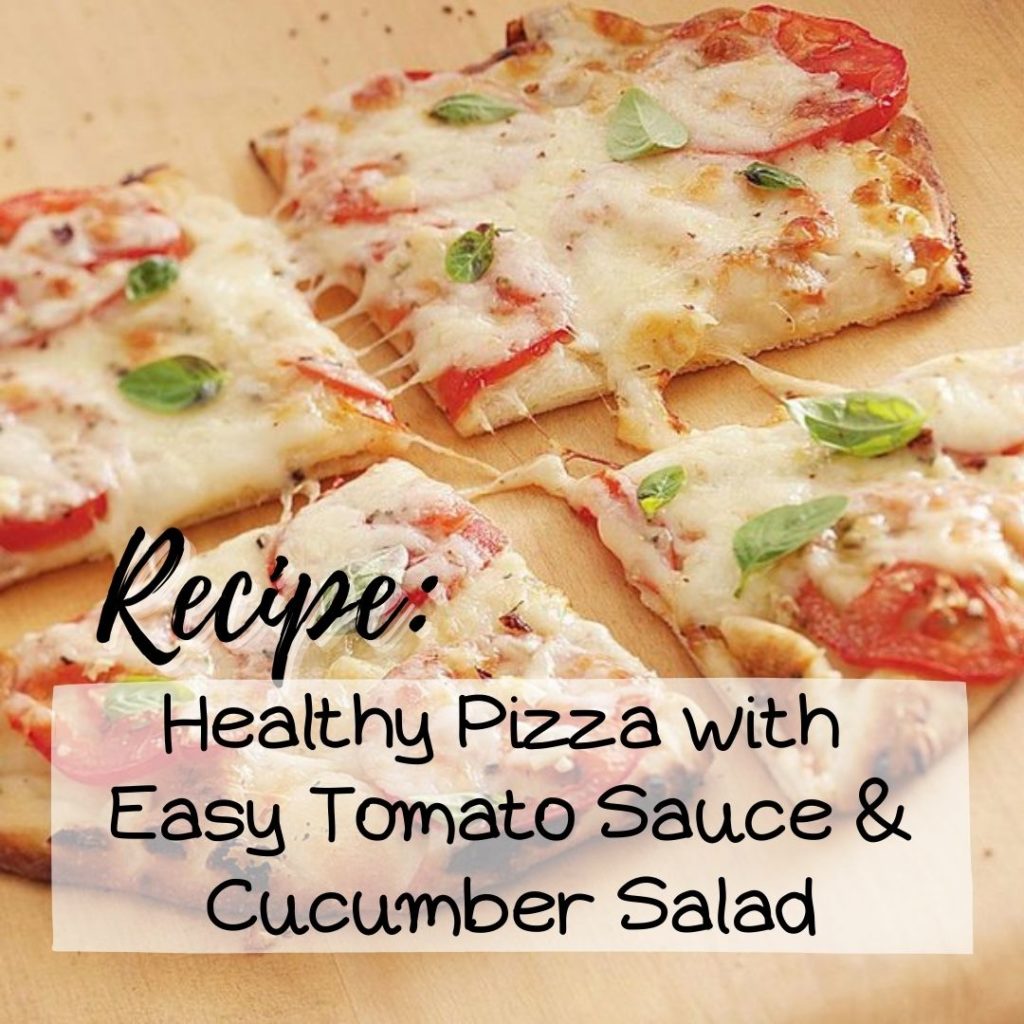 Here's a short cut for pizza: Use pita bread as a base and make your sauce using canned tomatoes! It's faster and healthier than ordering a pizza for delivery… and just as satisfying!

Active time:10 mins Start to finish: 30 mins Serves: 4, Family of Four
Ingredients:
4 Pita Breads
1 cup Easy Tomato Sauce (recipe below)
1 cup low-fat skim milk mozzarella cheese, freshly grated (don't buy pre-grated, it has potato starch in it that doesn't melt well)
Olive oil
Optional Toppings: Turkey pepperoni or shredded chicken

Directions: Preheat oven to 400d F. On a large baking pan, grease with a bit of olive oil and add either 2 pita breads. Add your sauce, cheese and topping and bake in the middle of the oven for 8-10 minutes, until nicely browned. Continue with more pita pizzas, being sure to only bake one tray at a time to ensure even cooking.
Before serving, place the pizzas you made first (that have now cooled a bit) in the oven for about 5 minutes to re-heat. Slice and serve!

Fun combinations:
 Classic Pepperoni: Add tomato sauce, mozzarella, turkey pepperoni and dried oregano
 BBQ Chicken: Add low-sugar bbq sauce of choice, mozzarella, shredded chicken and sliced red onion
 Buffalo Chicken: Add tomato sauce, Frank's red hot sauce, mozzarella, shredded chicken

Easy Tomato Sauce
Ingredients
1 24-oz can crushed tomatoes
Optional: 1 garlic clove, chopped
Dried Oregano & Sugar
Kosher salt and Black pepper

Directions: Combine in a bowl crushed tomatoes, garlic clove, 2 tsp salt, black pepper, 1 tsp sugar and 1 tsp dried oregano. Mix and adjust seasoning as needed. Typically it'll need a little more salt if you can't taste the flavors, or a bit of sugar if the tomatoes are too acidic. Cover and refrigerate for up to 1 week.

Cucumber Salad
Ingredients
2 large cucumbers
¼ cup red onion, thinly sliced
Vinegar (like white wine vinegar, rice wine vinegar, etc.)
Olive Oil
Kosher salt and black pepper

Directions: Peel the cucumber, then cut in half horizontally and cut into thin half-moon slices. Place in a bowl and add 1 Tbs vinegar, 1 Tbs olive oil, 1 tsp salt and a bit of black pepper. Combine ingredients. Add a bit of sugar if it's too acidic. Adjust the seasoning as needed. Refrigerate and serve chilled.
To book a FREE healthy culinary workshop for your school, district, or college access program CLICK Here