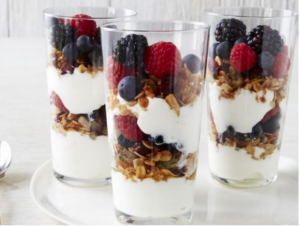 A sweet desert that consists of fresh fruit, nutty crunchy granola, and creamy tangy yogurt. This sweet treat
can also be served for breakfast to start the day right.
Active time: 15 min – Start to Finish: 25 min
Ingredients:
6 cups Greek Yogurt
3 cups instant oats
1/3 cup maple syrup +2 Tbs
4 Bananas, sliced
1 cup raisins
Kosher salt
Extra-Virgin Olive Oil
Directions:
In a large frying pan over medium-high heat, add 2 Tbs oil and the oats and mix together for 30 seconds. Next
add the maple syrup, large pinch of salt and cook while stirring frequently for 4-5 minutes until the oats are
golden and a bit crunchy. Remove to a large bowl to cool for about 10 minutes, then add the raisins.
In a serving bowl, add the yogurt and a spoonful of maple syrup and stir. Next top with your homemade
granola, banana and enjoy.