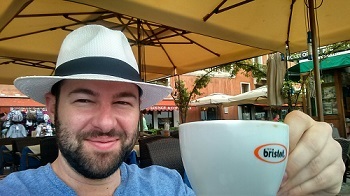 I'm writing this Monday afternoon on a train from Venice and off to Rome.  It's sunny and beautiful outside as the ancient city of Venice disappears into the distance.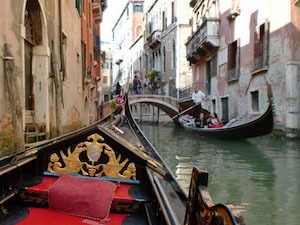 I leave behind memories of riding gondolas, eating fantastic Risotto con Mare Fristo (Seafood Mix), Pistacchio and Chocolate Gelato cones and, one of the best parts, visiting the island of Murano and watching an artisan glassmaker shape a blob of hot glass into a horse that balances perfectly on its hind legs.
Why am I in Italy?
The spring session has ended and school is out!  

All after-school classes finished with a Kid Restaurant or Lego Graduation.

It's the quiet time before

 Summer Camp

that starts at the end of July

It's the country of beautiful architecture and delicious food

It's my favorite country (besides the US)
Third Time's A Charm
This will be my third time in Italy, and it's become a type of pilgrimage of.  
2007
I first studied abroad in Italy while attending UCLA from August 2006  to July 2007.  I lived in in Trento (Northwestern Italy) and Padova (Northeastern Italy).  In Padova, I chose to live in Italian home with an awesome Roman mom (About Me) named Simonetta and her two daughters.  I ate incredibly well and learned to make my famous Spaghetti alla Carbonara.
2012
5 years later in 2012, I returned to Italy at a completely different stage in life.  I was in my late-20s and stepped off the plane and my first thought was, "Wow, I started a company that helps kids learn how to eat well and build Lego robots, and all that hardwork has allowed me to come back to Italy, the country that first inspired my love of cooking."  
I stayed with Simonetta, celebrated a fantastic New Years and enjoyed Northern Italy.
Lucky As Can Be:   On that trip, I came back from a day touring Verona, Italy, where Romeo & Juliet had their legendary romance, and found some cash while walking back from the train station.  It was 8:00pm at night in December and despite the darkness I saw the bills were right in front of me on a random street corner.  I picked up the bills and noticed it was 70 Euros!  (about $90 US).  I looked around and saw no one who could have dropped it.
I guess I'm lucky sometimes 😊
2017
Another 5 years have passed and I'm now travelling with my girlfriend (her first time in Italy) and visiting Simonetta and her family, which now includes a cute grandson!  We spent a night in Milan, 6 nights in Padova and joined some American friends to tour Venice and Rome.
Below are reflections on revisiting Italy, after having not been here in 5 years
1. Pasta and Risotto are perfectly al dente, with a focus on the pasta, not the toppings.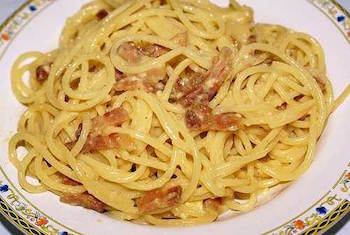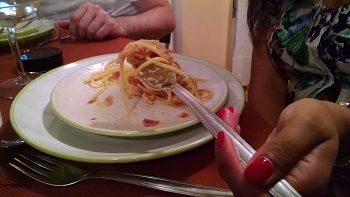 What I mean by this is that in America, Chicken Parmesan,  Shrimp Scampi and Spaghetti with Meatballs focus on the toppings that go over the pasta, such as the chicken, shrimp and meatballs.
Here, the pasta is the highlight.  At a restaurant, when you order a "Primo" dish, which is pasta or rice, all the herbs and accompaniments are meant to enrich the pasta with various flavor profiles.  For example, in Milan we ordered a plate of Maccherone con pancetta, pomdoro e panna (Macharoni with bacon, tomato and cream).  
It was delicious!  The pasta had just enough of a bite but not too much.    The flavors of the creamy, tomato and bacon were embedded in the pasta and it truly shined.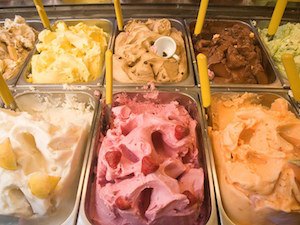 2. Eating well is affordable
Here's a comparison of American (or should I say Los Angeles specifically) costs versus those in Italy.
Cappucino
$2 in Italy
$5 in LA
Pasta At A Sitdown Restaurant
$8-$12 in Italy (at a not basic but not ultra luxurious place)
$14-$22 in LA (plus tax and tip, which is already included in Italy)
Spritz Cocktail
$3 in Italy
$12 in LA
My point is that here you'll find all types of people from students to suited professionals enjoying the tasty things because they're affordable.
3. Walking everywhere means you can eat anything you crave
In LA, I average 5,000-9,000 steps a day.  Sometimes more when I make a point to take my puppy on extra walks The Four P's of LIFT Enrichment
Here, I walk a lot and average 12,000-19,000 steps a day.  When you're burning more calories, particularly in the summer heat, you can enjoy that chocolate croissant with breakfast and midday gelato when you walk so much.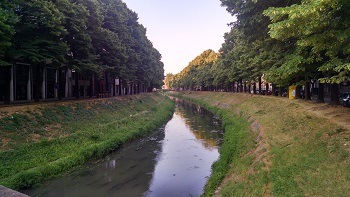 Plus, when you walk around, it's really amazing to see the city come alive.  There are all types of people roaming the streets and lounging at cafes.  You pass by rivers, decorative churches and famous palaces.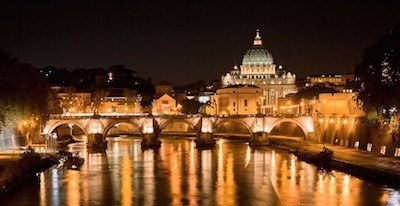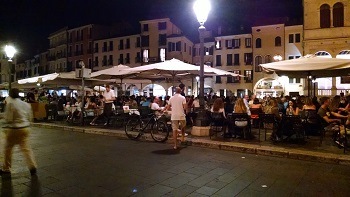 4. Italians REALLY appreciate the summer.
Perhaps because it gets so cold during the winter, Italians make the extra effort to get out and enjoy the summer.  In Padova, the sun stayed out until past 10:00pm some evenings.
One Monday night, we heard a lot of noise and headed to Piazza degli Signori to discover that hundreds of people were seated at tables that covered the entire piazza.  They were chatting, drinking and eating late into what I would consider a "work night."
Italians know how to enjoy the good life!
5. Italy remains the same, while I'm the one who changed
It's funny to come to a familiar place every 5 years.  You realize that it is EXACTLY the same.  Meanwhile, I have changed.   I'm now in my 30s with a girlfriend and puppy.  LIFT Enrichment has classes at 45 schools with over a dozen teachers instructing 500+ kids a week during the school year!  
I can't wait to see where we'll be in 5 years
And you can guarantee I'll be back to Italy to take some time off, reflect and eat some fantastic Pasta Carbonara made by Simonetta
Read More: Understanding Gelato Compared to Ice Cream