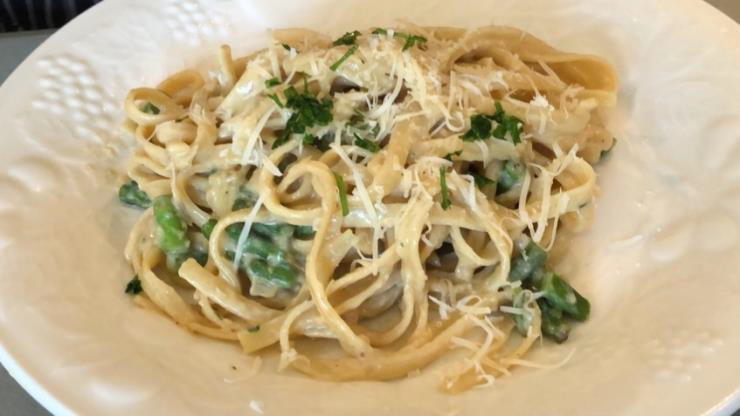 This is an "Italian-American" dish, meaning you'll only find it in America. Fettuccine Alfredo is a comforting plate of fettuccine pasta covered in a homemade cream sauce, but our version is healthier as we substitute heavy cream and lots of butter with low-fat milk, vegetable broth and Extra-virgin olive oil. Plus we add some freshly sautéed asparagus for extra fiber and micronutrients.
Active Time: 30 min – Start to Finish: 40 min – Serves: Family of Four
Culture Facts:• Fettucine Alfredo is an Italian pasta dish of fresh fettucine tossed with butter and Parmesan cheese.• As the cheese melts, it emulifies the liquids to form a smooth and rich sauce coating the pasta.• The dish is named after Alfredo di Lelio, who featured the dish at his restaurant in Rome in the early- to mid-20th century.

Did You Know?
In 1943, during the war, di Lelio sold the restaurant to two of his waiters. In 1950, with his son Armando, Alfredo di Lelio opened a new restaurant in piazza Augusto Imperatore, Alfredo all'Augusteo, bringing along the famous "gold cutlery" said to have been donated in 1927 by the American actors Mary Pickford and Douglas Fairbanks in gratitude for Alfredo's hospitality.
Culinary Technique:
Grating is the process of transforming solid, firm food items into small pieces by rubbing it against a grater.
Smaller pieces of food, like grated carrots or zucchini will cook faster…or smaller pieces of cheese will melt faster.
Chef Note: Always freshly grate your cheese!
Pre-grated Cheese has chemical additives (like potato starch) so the cheese doesn't clump together.
Freshly grated cheese has more flavor and melts better!
If you'd like your kids to learn to make quick and easy healthy recipes plus more of their favorites foods, and create a memory bonding in the kitchen, join today at Kids Can Cook Inner Circle.
=>  Experience an interactive and fun live cooking class with our Chef Teachers, here
Get Cooking,
Chef Eric Horwitz
(310) 890-8704 – Eric@LIFTenrichment.com
www.LIFTenrichment.com | www.KidsCanCookInnerCircle.com