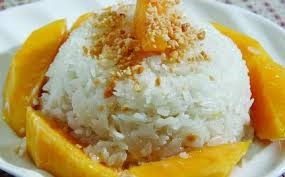 Sticky Rice with Mango is a popular dessert found throughout Asia.  On my recent trip to Thailand, street vendors presented this dish as a sweet, light and satisfying end to a meal.  In Phuket, after eating rice with dinner, I had rice with dessert, and it was quite tasty.  The flavors of a soft, sweet rice with the bright, fresh mango slices mango complimented each other extremely well.
The Chinese used sticky rice for non-eating reasons including building houses!   Read on to find out the story behind this dish that we will teach kids how to make in our after-school class this Winter.
Sticky Rice – The Brick Builder Story
Sticky rice is also called "glutinous" rice because when cooked, it becomes sticky and "glue-like."   Its grains are noticeably smaller than other rices and thus it's best used in desserts and sushi.  Compare it to Jasmine rice, which has has larger grains and its main use are in savory dishes such as served alongside Orange Chicken or as the main dish in the form of Fried Rice.
Historians say that the Chinese used the stickiness of cooked glutinous rice to use as glue between bricks for buildings.  The Chinese used sticky rice to build the Great Wall of China, large tombs and even houses!
Rice: It's In Every Meal
In Thailand, you'll eat a LOT of rice.
Breakfast:  Rice porridge with small meatballs
Lunch:  Fried Rice with vegetables and chicken
Dinner:  Sauteed Chicken or Beef with Veggies on a bed of rice
Dessert:  Thai Sticky Rice With Mango
By re-configuring rice in many different ways, it doesn't get old because rice has a fairly bland flavor that compliments the savory, such as with soy sauce, or the sweet, such as with sweetened condensed milk.
Traditionally, sticky rice is served with mango slices.  Mangoes were first grown in Asia, and are a stone-shaped fruit with Vitamin C and fiber.  The bright orange provides a nice visual balance to the whiteness of rice, plus it's slightly pungent, but still sweet, flavors compliment the richness of the condensed milk.
Our Recipe We Teach Kids:  Thai Sticky Rice with Mango
Sweet sticky rice is a yummy Thai treat!  It's easy to make and has a light, refreshing flavor.
Active Time: 20 min     –     Start to Finish: 50 min       Serves: 6
Ingredients
For the Rice
2 cup of glutinous rice (Available at Asian supermarkets or Amazon.com, use Calrose Rice if you can't find it)
1/3 cup sugar
½ tsp salt
½ cup coconut milk
2 medium mangos, peeled and sliced
For the Coconut Glaze
1 cup coconut milk
3 Tbs sugar
¼ tsp salt
1 tsp corn starch
1 tsp water
Directions
For the Rice
Wash rice thoroughly drain in cold water two times.  Add rice to a pot, add 3 cups of water, cover and bring to a boil.  Reduce to a simmer and cook for 15-20 minutes, until cooked.  Turn off heat and let rest for 10 minutes.
In a separate bowl, whisk together coconut milk, sugar and salt.  Fluff rice with a fork, remove to a bowl and add coconut milk mixture.
For the Coconut Glaze
In a medium sauce pan, add coconut milk, sugar and salt and bring to a simmer over medium-low heat.  In a small bowl, whisk together tapioca powder and water.  Add tapioca mixture to the coconut milk and cook while stirring until thickened, about 5-10 minutes.
Serve sticky rice with mango and drizzle coconut glaze on top.
Want your kids to learn how to make Thai Sticky Rice with Mango and 7 other popular Asian dishes so they can improve their confidence in the kitchen?
==> Join our after-school Cooking class here
READ MORE:   The Story of Orange Chicken, How It Came To America