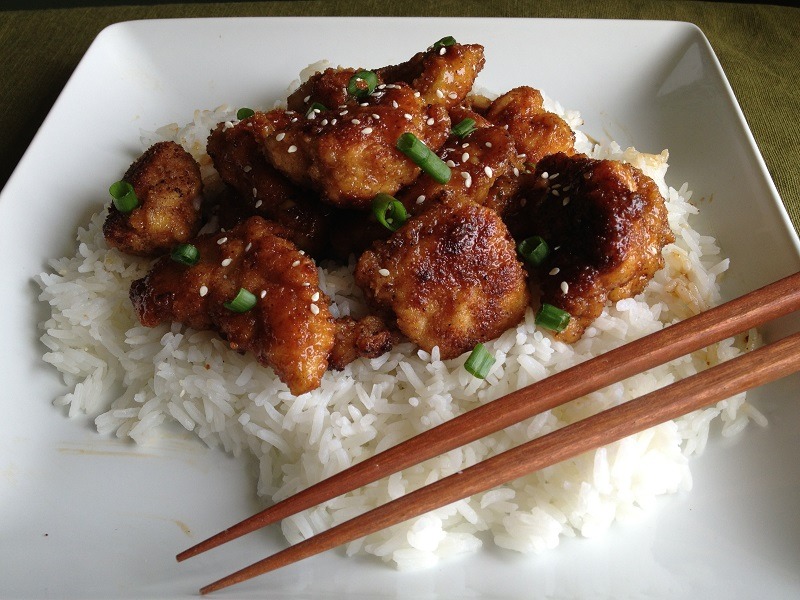 Orange chicken is one of those classic Chinese-American dishes that makes you wonder, how did it get to America?  What happened to it along the way that turned it from a citrus-flavored chicken stir-fry to the crispy, sweet and flavorful dish we CRAVE whenever we step into a Chinese restaurant?
How It Started – Orange Peel
In the 1800s, Chinese immigrants from the Guandong district immigrated to America seeking better opportunities.  At the time, their district was ravaged from a rebellion and an unstable economy.
Their cuisinehad some sweet elemenets, but overall was made of vegetables and meat stir-fryed and served with rice.
The original "Orange Chicken" had no breading around each piece of chicken and the sauce was made of leftover orange or lemon peels cooked with soy sauce, chilis and garlic.  The sauce had a citrus element, but it wasn't as pronounced or sweet like you would think of today.
Adapting The Cuisine
"Chow Chow" Restaurants were the first restaurants by Chinese immigrants in America.  They were known for their inexpensive food, such as a dollar-all-you-can-eat menu.
Chefs had to make substitutions to accomodate the food that was available, such as using broccoli, carrots and peas instead of more common Chinese ingredients including Shitake mushrooms and mustard greens.
Some Americans were disgusted by how these chefs would use every part of the animal, such as dishes that featured chicken feet and head.
The Sweet Side
In the mid-1900s, Chinese restaurants began to adapt to American palates, which favored bolder flavors with more sweetness.  Sodas were increasingly popular and that hunger for sugar in drinks drifted into Chinese cuisine.
Fat adds a lot of flavor and Chinese restaurants began to adapt chicken recipes to involve deep frying each piece of meaet.
With added sugar and corn starch to help thicken and sweeten Chinese sauces, dishes such as General Tso's Chicken, Sweet & Sour Chicken and, of course, Orange Chicken became very popular.
In 2013, Panda Express reported that it sold than 65 million pounds of Orange Chicken alone!
Which Leads Us To Our Recipe
Our recipe captures the flavor of the original Orange Chicken you'd find at a restaurant, but leaves out the deep frying and excessively sweet sauce.
Check Out Our Orange Chicken Recipe here
READ MORE: Thai Spring Rolls: Kid-Friendly and Healthy
Do you want your child to learn to cook delicious (and healthy) Chinese cuisine while learning culinary tips from chefs?  Enroll in our after-school classes here