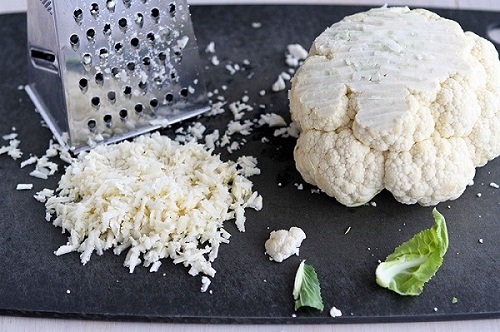 I had a fork full of food ready to go for the taste test.
"What will she think?"  I wondered.
I was in my kitchen having just completed the evening's dinner:  Fried Rice with Chicken and Veggies…and a twist
(Of course, you can see where this is heading)
My girlfriend took one bite.  "That's good!"
I did my best to hide a grin, but not very well.
"Good…It's a new recipe.   Also I want to tell you something…"
I paused, for dramatic effect.  She looked at me with curiosity and some confusion.
"It's not rice, it's cauliflower!" I burst out with enthusiasm.
"What!?"
"Yep, there's no rice.  It's all veggies."
She smiled and gave me a familiar look that said, "Why do you get such a kick out of tricking me?"
The dish was a hit and we enjoyed that dinner and leftovers for lunch the next day.  (Side note:  It reheats very well).
What if your kids could have this same level of excitement over cauliflower?
I KNOW that kids will be excited to make this dish during this session of Cooking Without The Kitchen
==> To join the online cooking class after-school that get kids to eat their cauliflower, click here
Cauliflower, the blandest and healthiest veggie out there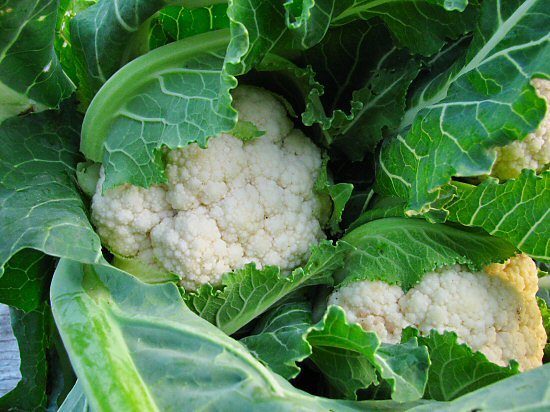 Cauliflower comes from the cruciferous family of vegetables, but generally is overshadowed by its green cousin broccoli.  It deserves more attention, and these days, it's getting it.  Chefs are finding exciting ways to substitute carb-heavy favorites like rice and bread with cauliflower.  Examples include:
Cauliflower Pizza
Cauliflower Mac and Cheese
Cauliflower Cous Cous
Cauliflower Grilled Cheese
Cauliflower Steak (I haven't tried this, but will soon)
We all know cauliflower is loaded with nutrients that improve your health.  Here are some ways it's good for you:
It's anti-inflammatory meaning, it helps reduce swelling and redness in the body
It's good for your blood (Vitamin K)
It supports your immune system (Vitamin C)
It aids your digestive system (Fiber)
It's maintains healthy skin and your vision (Beta-carotene, which is converted into Vitamin A)
It's good for detoxing and helping prevent the natural deterioration of your body.  In layman terms, as the body ages, it breaks down.  The more vegetables you eat with Antioxidants, the longer your body will function in a health way. (Antioxidants)
Cauliflower is very low calories.  1 cup has only 20 calories!  Meanwhile, 1 cup of rice has 200 calories.
I could keep going, but let's get to the tricky part.
How do you make cauliflower taste good?
To be completely honest…
Cauliflower is VERY bland in its raw state (just like broccoli…but you can make it taste better with this recipe)
It's got crunch, but the flavor of taking a bite is kind of like eating chalk.
Side note: I typically HATE raw vegetable platters that serve broccoli or cauliflower.  My theory that other people don't like raw cauliflower as well is confirmed when you see people smother it with mayo-and-sour-cream loaded ranch dressing to make it edible.
Tips for Turning Your Cauliflower Into Rice
I've made Cauliflower Fried Rice dozens of times and here are 5 tips
 All you have to is grate the cauliflower.  DO NOT pulse it into a food processor, as that creates cauliflower cous cous, which is not going to give you the rice consistency you want.
To grate the cauliflower, cut it in half vertically, then remove the stems at the bottom.  This create two large pieces of cauliflower to work with, which is much easier that grating smaller florets.
Grate using the largest size on your grater.
When grating, don't worry about the small florets that break off.  These are hard to grate and can be dangerous as your hands will get close to the grating blades.
Cook the cauliflower for 5-6 minutes on medium heat, to soften it before making fried rice as usual.   That's all!  Despite what other recipes say, there is no need to remove the excess water by draining it in a towel.  Also season your cauliflower with salt and pepper so it tastes good to you.
Now, that you're all prepped.  Let's get started with the recipe:
Cauliflower Rice with Veggies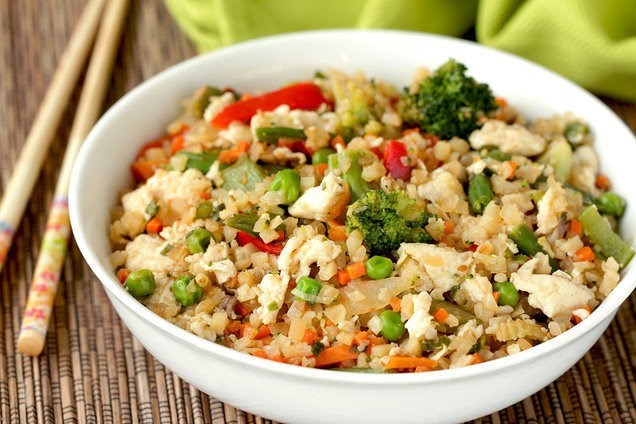 Active time: 15 mins  Start to finish: 20 mins   Serves: 4 (or 2 as a main course)

Have you ever wondered how to make cauliflower fried rice? Well here it is and it's super easy. It will satisfy your fried rice cravings and it's low-carb.
Ingredients: 
1 head of cauliflower
½ onion, diced
1 bell pepper, diced
1 carrot, peeled and grated
2 cloves garlic, minced
2 Tbsp. fresh ginger, minced
1/2 cup frozen peas, thawed
2 large eggs, beaten
2 Tbsp. soy sauce
1 Tbsp. rice wine vinegar
1 tsp sesame oil
Vegetable Oil
2 green onions, thinly sliced for topping
Salt & pepper to taste
Optional: 2 cups of cooked chicken cut into pieces
Directions:
Use a box grater and carefully grate the entire cauliflower using the largest grating holes.
In a large pan over medium heat add 2 Tbsp. oil, cauliflower rice and cook until tender while stirring occasionally, about 4-5 minutes.  Remove to a bowl.
In the same pan add 1 Tbsp. oil over medium heat, add eggs and cook while scrambling with a wooden spoon about 2 minutes.  Remove to a bowl.
In that same pan, add 1 Tbsp. oil and add the onion and carrot, cooking for 2-3 minutes until softened.  Add garlic and ginger and cook for 30 seconds until fragrant.  Add the cauliflower rice, eggs, peas, soy sauce, rice wine vinegar, sesame oil and stir to combine while cooking for 1 minute.  Taste and adjust seasoning as needed.  Serve warm topped with green onions
Optional:  To add some healthy protein, add the cooked chicken at the same time you add the last few ingredients.
==> To join the online cooking class after-school that get kids to eat their cauliflower, click here
Read More:  The True Color of Cheddar