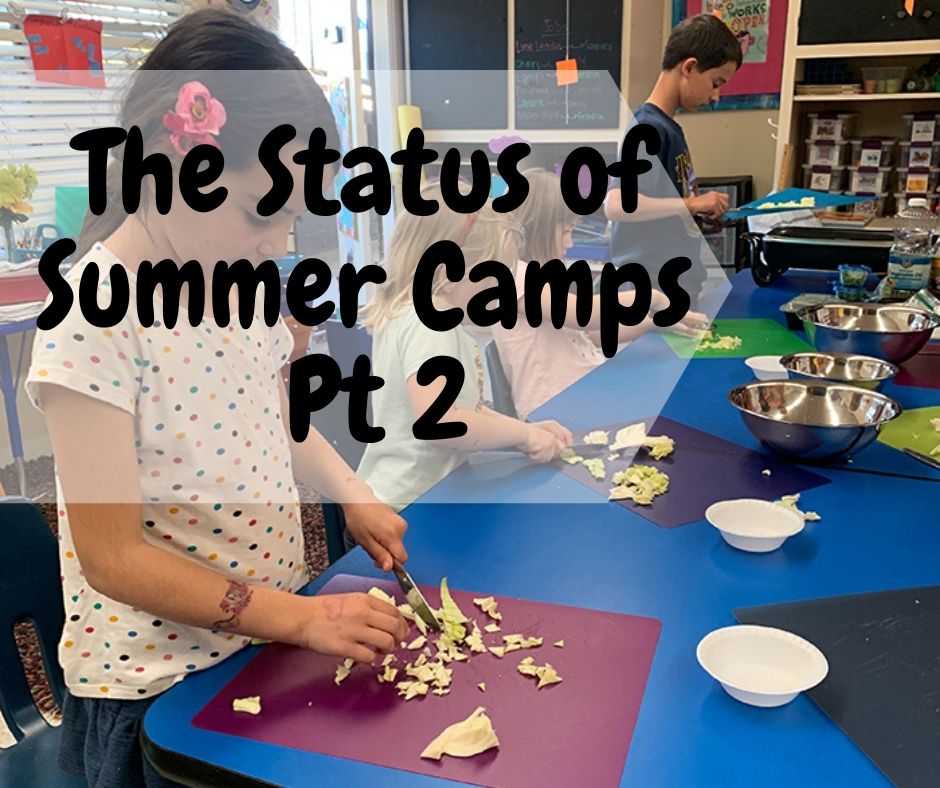 In my previous post HERE about the "The Status of Summer Camps" things have gotten slightly better, but there's still a lot of uncertainty out there in the world of camps.
I'll share the latest news for camps and enrichment classes for this Summer and Fall, followed by my opinion on what'll happen in the rest of 2020.
News
California to Allow Gyms, Day Camps and Museums to Reopen June 12
In a nutshell: The state of CA is looking to open up more businesses to the public. They even say day camps will open. However, each county (I'm in LA) has different policies that could interfere with this.
Harvard Westlake ditches in-person classes in favor of a completely virtual summer
One of the biggest names in education in Los Angeles called Harvard-Westlake announced they are going completely virtual. They sent multiple emails back in May about how they weren't sure, but their recent stance is that they are ONLY going with virtual camps. That's a good move in my opinion
YMCA, American Camp Association Release Guide For Opening Summer Camps
In a nutshell: YMCA worked with a private consulting firm to create an 82-page guide on how they can have a safe, in-person camp experience. (Btw, who has the time to read all of that???) This was released in Mid-May so you can bet they are hoping to convince parents that signing up for a sleepaway or day camp experience with them (a huge part of their revenue) is the way to go.
MY Two Cents:
Now for some insider scoop.
LIFT Enrichment is partnering with dozens of parks and rec vendors this summer and the general consensus is…
..They're not sure if in-person camps will happen. All June camps have been cancelled and we're still waiting on July or August.
Most have converted to our virtual cooking camp model but some still have their hopes on in-person camps.
Could in-person camps happen in August? Maybe, but it's unlikely.
What Schools Are Saying
Schools are being about as decisive as summer camps. One private school has informed parents that school could open under a variety of different scenarios including:
All virtual learning
Some virtual and some in-person with staggered days of kids being on campus vs at home.
(i.e. Mon & Wed half the school is on campus, while the other half comes Tues & Thurs.. And switching off every Friday….which kinda sounds like a divorced couple sharing custody of kids)
Or maybe everyone will come back at the same time in-person with some new guidelines.
No one is sure what's going to happen.
My stance remains the same: We're going virtual with cooking classes this Summer and Fall!
January could yield some in-person culinary workshops, and I even have some big proposals from districts that are ready-to-go.
Still, it's better to plan ahead and just go all-in on virtual programming, so at least parents know a REAL option that's available to them. If in-person camps happen, that's fine…but very, very few enrichment vendors are counting on it.
Stay safe and we'll keep you posted for another status update soon!
"Do you want your kids to have a FUN camp experience, develop culinary skills and cook healthy meals without having to leave the safety of your home? Do you want to get some VALUABLE free time each morning as your kids explore the culinary industry, do art projects, and make their own breakfast with a LIVE chef teacher? LIFT Enrichment's Virtual Cooking Camp is a week-long half-day camp where your kids can have an action-packed camp experience, learn to make over 15 healthy recipes AND eat vegetables in new ways. Click here for the details."