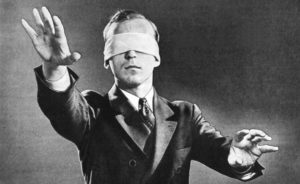 I was blindfolded and in the back of a cab.
I had no idea where I was going and the suspense was killing me.
For those who read yesterday's email, it was my birthday and my girlfriend told me we were going to a fine-dining French restaurant called "Le McDonalds."
At 7:00pm we stepped into an Uber and a red handkerchief was put over my eyes.  In the back seat I used all my senses to figure out where we were heading.  When you can't see, you start to hear and feel a lot better.  I could vaguely tell when we were on the freeway and deduced we were heading west.
As the car came to a stop, I was carefully guided, still blindfolded, from the car to the street.  Soon I heard the hustle and bustle of a lively restaurant.  I felt the A/C and heard people laughing as I was taken to table.
Finally, the blinds came off!
Ahead of me I was greeted by the view of the Pacific Ocean and my smiling girlfriend.  To my left and right diners were staring at me with a grin (apparently people aren't regularly blind folded when entering a restaurant).
We were at BOA Steakhouse in Santa Monica and I was thrilled to try some of their famous steaks.  After a bit of bubbly, we experienced fantastic food from start to finish.
Here's a chef's experience at a steak house

Cowboy Rib Eye – I ordered this because I was curious to try a Rib Eye that had a wet rub made of 14-spices.  I'm a classic steak guy and believe all you need for a high-end cut is salt and pepper.  The crust on this dish was fantastic and had a lot of kick without overpowering the rich, buttery flavors of the steak.  Huge recommendation
Creamed Spinach with Crispy Shallot – The best creamed spinach I've ever had and you can tell the spinach is very fresh.  It's cooked with just enough of cream, but it doesn't overpower the vegetable.
Sweet Potato Fries – Perfectly crispy and paired with a blue cheese dressing.  One of the best
Lobster Mac & Cheese – Delicious, but I could make it better.  🙂  Maybe I'll share my recipe in a future email
Dessert:  Baked Alaska – This plate arrived with a sparkler that shot mini fireworks one foot into the air.  Impressive and tasty
As you can tell, I highly recommend BOA Steakhouse and it was as good as I thought it would be.
However, the after you're birthday, it's back to reality
Today I've got school proposals to write, phone calls with potential new clients, internal meetings, 30 NEW cooking videos for our Youtube channel to proof for our filmmaker and a 40-page cookbook to edit.
In other news, tomorrow is Weekend Recipe!   We've got a tasty chicken (or tofu) dish coming your way that kids LOVE to make in our camps.
Best,
Chef Eric
P.S.  Have you heard what parents are saying about our Cooking Birthday Parties?
"The birthday was very well-organized and fun!  The Chef Teachers were great with the kids – very nice, polite, and in tune with what interested the kids. The food was super, and the kitchen was clean at the end of the party!" – Jamie, parent
"Having Chef Eric and his team was a one stop-shop. Dinner, an entertaining activity, prepping and even cleaning all occurred under his experienced hands. My husband and I didn't have to lift a finger.  Highly recommend and would do it again in a heartbeat."  – Wendy, parent
"The party was fantastic!  The instructor really engaged the kids, and helped make the whole day a success"  –-Mike, Parent
==>  Experience The Best Cooking Birthday Party For Your Kids
A birthday party through LIFT Enrichment is:
Fun and interactive
Features delicious, homemade foods
Has the best Chef Teachers to make sure the day goes smooth from start to finish.
Party Themes:  Homemade Pizzas, Sushi Rolls From Scratch, or Fresh Fettuccine Pasta With Delicious Sauces
We have a limited amount of Chef Teachers to service these parties, so book your party NOW before we have no spots when your child's birthday is a month away.
Since we unveiled our Cooking Birthday, dozens of parents have reached out to us.
==>  Experience The Best Cooking Birthday Party For Your Kids