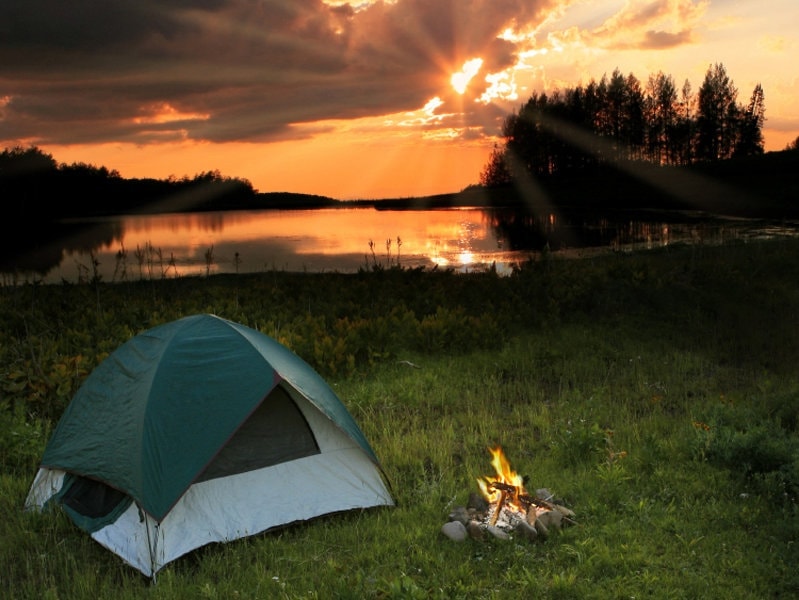 With spring heading into summer, now is the time to go back to nature in Southern California.
Living in the city has a lot of perks: lots of fun things to do, great restaurants, parks and choices for the consumer.
But it's just as necessary to balance the city's offerings with some outside time.
Last weekend, I headed east for a few nights of camping with my girlfriend and puppy.  Our destination was a campsite called Buckhorn in the Angeles Forest.  We discovered it was closed for the season (why exactly???) and headed 10 miles to the nearby Chilao campsite, which is always open and welcoming.
For some reason, food tastes better when you cook it outdoors while camping.  Perhaps the fresh air and relaxing atmosphere somehow finds its way into the food you eat.
If you like to cook, camping can be a fun place to bring your kids.
If your child likes to cook, they'll enjoy our first week of camp in Santa Monica, Sherman Oaks and Torrance which features American favorites from Salmon Tacos to Sliders and Mac & Cheese.
==>  Join the cooking camp, where your kids can learn to cook…and later cook for you while camping
1) For dinner, go big and make it memorable: Butter-roasted Rib Eye Steak, Rosemary-Garlic Red Potatoes and Sauteed Zucchini
If you are with company that are more new to camping, you want to make sure their experience is as pleasurable as can be.  This means making sure that the first dinner is high quality.
I opted for a Prime cut (the highest quality cut of steak with lots of marbling) of Rib Eye.  I love Rib-eye because it has fantastic marbling all around it and a portion of fat in the middle that adds so much flavor to the dish.
Ingredients: (serves 2)
1 1lb-1.25 lb Rib Eye Steak
4 sprigs of fresh rosemary
3 garlic cloves
1/2 lb zucchini, cut into bite-size pieces
1/2 lb yellow squash, cut into bite-size pieces
1 Tbs unsalted butter
1 lb red potatoes
Olive Oil
Salt & Pepper

Directions (while camping)
– Boil a large pot of water, which will take longer than usual due to wind and being outside, so start this ASAP
– Cut the potatoes into quarters and cook until tender, about 8-10 minutes.  Drain and set aside.
– Meanwhile, season your steak with a drizzle of olive oil and add salt and pepper all over.
– Place a pan over medium-high heat.  Add olive oil, 1 chopped garlic clove and your zucchini, cooking until just al dente (tender, but not mushy) about 5 minutes.  Season with S & P and set aside in your pot that you emptied previously and with the lid on to stay warm.
– Add olive oil, another chopped garlic clove and the red potatoes.  Cook on each side for about 5-6 minutes until nicely browned on each side.  Add S & P, plus 1 Tbs chopped rosemary.  Put this in the other side of your pot, next to your zucchini so they can get cozy.
– Add olive oil to the pan, add your steak and cook for 3-4 minutes on one side.  Flip and add 1 Tbs butter, a garlic clove, 2 sprigs of rosemary and now baste your steak.  You can watch this video to see how Gordon Ramsay bastes his steak
– Remove the steak and let it rest on a plate.  Cover with tin foil and let rest for 5 minutes.  Meanwhile, place the pot with the potatoes and zucchini on your burner over low heat with the lid on to heat up.
– Slice the steak, then serve with the potatoes and zucchini alongside a stunning view of the Angeles forest.
What To Watch Out For:  Resting your steak unprotected
When I did this recipe, I made two mistakes:  The steak rested without tin foil and was not as warm as I would have liked it by the time we ate it.  The second mistake was that I rested it for 10 minutes, which was too long.  5 minutes would have been fine and would have kept it warmer.  These are minor changes I make because overall, the meal was fantastic and was easily one of the best steaks I've ever eaten.
When you wake up, make it worth it:  Frittata with Zucchini, Onion and Bacon with Sourdough Toast
When you're camping, breakfast and dinner should be the culinary highlights.  One preps you for the day ahead of hiking and exploring while the other refuels your body and soul after a day of activities.  Lunch is generally for snacking and making easy things like sandwiches.
This Frittata was fantastic and didn't take too much work:
Ingredients: (serves 3)
8 eggs
1 onion, sliced
Leftover cooked zucchini (about 1 cup)
5 slices bacon
Sour dough toast, sliced
Butter
S & P
Directions (while camping)
– Crack your eggs in a bowl, add S & P and mix
– On a pan over medium-high heat add your bacon and cook for 2-3 minutes per side until crispy.  Remove to a paper-towel lined plate (or if you're out of paper towels, like we were, you can use toilet paper).  Chop bacon into bits.
– Remove most of the bacon grease, except for about a tablespoon and add your onions, cooking for 4-5 minutes until golden brown.  (Bonus:  drizzle some grease on your puppy's bone, then watch him freak it out with excitement)
– Add the eggs, bacon and zucchini to the pan.  Turn the heat to medium-low.  Cook your frittata for about 7-8 minutes until it's firm on the sides and bottom and just a little runny on top.  Use a spatula to loosen the sides of the frittata every few minutes.  Grab a plate, flip the frittata on to it, slide it back into the pan and cook for 1-2 minutes.  That's hard to explain without seeing a video, so watch this

– As the frittata rests, butter your sour dough and grill it on one side until, toasty, about 1 minute.
– Slice the frittata and serve with the sour dough toast, coffee and juice.
Hope you enjoy these recipes!
==> To join the Cooking camp where you child can bring recipes to the camp ground , Go Here
==> To join the Lego Robotics camp that is right next door to the cooking camp, Go Here
Locations:  Santa Monica, Sherman Oaks and Torrance
Dates:  Jul 24-28, Jul 31-Aug 4, Aug 7-11, Aug 14-18
Day/Times:  Monday-Friday 9am-12pm (half day) or 9am-3pm (full day)
Ages: 5-12
Spots are filling up!