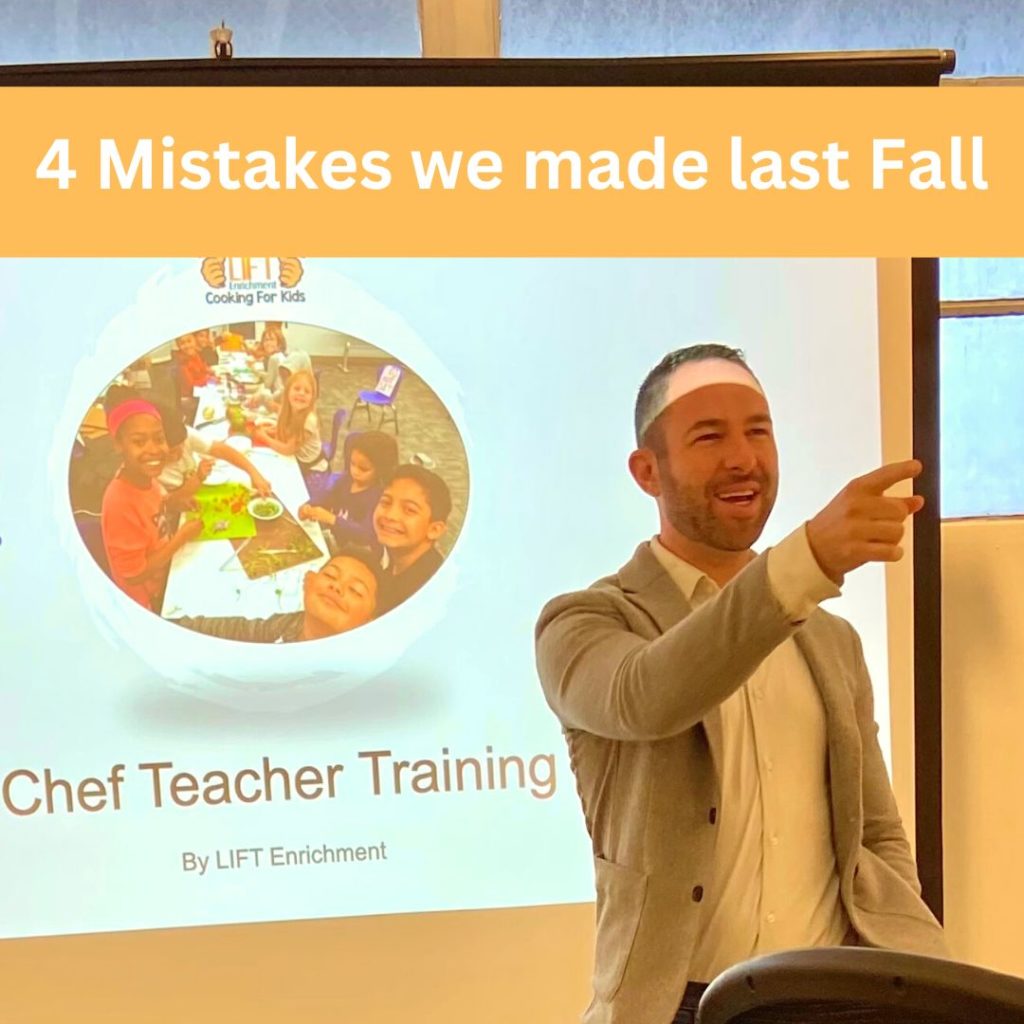 Running a business is usually 3 steps forward and 2 steps back. Last week I shared some forward steps (5 improvements we made in 2023) but here are some steps backward (and what I learned from them.)
This past Fall (which was from August 2022 – December 2022) we grew exponentially, signed some of the biggest clients of all time (200+ workshops in a single contract!). and then we signed an even bigger one (300+ workshops!) Currently we have some open proposals with a mind-boggling 1,000 workshops!
So let's dive into the weeds, shall we?
Mistake 1: Hiring a new Chef Teacher to teach 5 days a week.
We love having our Chef Teachers work 5 days a week, but we learned the hard way they have to earn that privilege, especially if they're new. Example: One of our districts has 5 sites a week: Monday-Friday. We had a Chef Teacher, who we liked, assigned to all 5…but if that one chef got sick we had to cancel the whole week. Then a few months later time she had a car issue, and again we had to reschedule a week of classes. It wasn't good.
Lesson: If you've got 5 days of workshops with a client, Monday-Friday. Hire 2 Chef Teachers, so one can teach 2 days and the other can teach 3 days.
We had a client in San Jose where we setup this model and the first chef didn't work out, but the second one (who is amazing! Shoutout to Chef Mirna) took over the whole week and the client was happy.
Like I tell my team: 2 is 1 and 1 is none. Always have backups and options
Mistake 2: Not Recruiting Chef Teacher Soon Enough
As I mentioned in a recent post, (5 improvements we made in 2023) we are basically a recruiting agency for part-time teachers that never stops. Even when we are fully staffed, we are screening for backup chef teacher to assists. It's a wheel that will go on forever (definitely one of the trickiest parts of being in the service industry!
Recruiting for a site starts at least 30 days before a client begins their workshops, but 45 days in advance is preferable. Back in September, we had to push back some start dates because we didn't start staffing soon enough.
Now we are VERY good at cranking the hiring engine and in advance! We also have two staff members screening 50+ Chef Teachers a week to make sure we don't run into staffing problems in the future.
Lesson 2: When it comes to hiring, start early!
Mistake 3: Not doing more back-to-back workshops
There was a moment about 3 weeks ago where I called our Operations Manager with a sudden and strange realization. I was at the Utah airport en route to Paris and then Dubai (Paris, Dubai and Your Invite to a VIP Client Appreciation Dinner) and asked her this question: "What were the common denominators between 3 districts that had the most challenging staffing issues?"
The unexpected answer was that we taught only 1 workshop in an afternoon (i.e. 3:00pm-4:00pm) and not TWO workshops (3:00pm-4:00pm and 4:15pm-5:15pm). When I thought about it, it made sense. The Chef Teachers we hire for the back-to-back workshops stick around longer because they make more money in a single afternoon. Plus we can service more kids in one day. The one-a-day in-person workshop have more turn over, less margins, cost more to service and requires just as much planning as a back-to-back.
If you were to work with us today, we don't even offer one-off in-person workshops. It's something I promised the team moving forward
Lesson 3: Look for commonalities when business problems immerge. Often, there's a common element that once you identify and solve, will relieve the problem forever/
Mistake 4: Not firing Chef Teachers fast enough
While we have an amazing team of Chef Teachers (about 28), we've had a number that didn't work out. We had one quit their 1 hour before their class as a lead teacher. We had another get annoyed by the drive and quit on the way to a client. It's just an ongoing challenge: working with part-time enrichment teachers has a high turnover.
This is one reason I'm not too worried about competition, because you have to spend a lot of time, money and energy to be effective in this space because hiring and onboarding are so crucial.
About 9 months ago, we had a Chef Teacher who forgot to bring cheese to a Black Bean and Spinach Quesadilla lesson. We should have let him go immediately, but we needed the staff. Instead of firing him, we let him teach…and two weeks later he forgot to bring bread to a Whole Wheat Grilled Cheese with Broccoli Slaw workshop! Parents and students were not happy.
I've never regretted firing someone quick…but I've always regretted keeping someone onboard that shouldn't have been there.
Lesson 4: Go with your gut and fire quickly and swiftly! If you see the red flags, don't keep people on board, just dump them.
And that's it!
If you're a Title-1 school who sees how LIFT Enrichment has learned from their mistakes and still provides high quality health culinary workshops as an after-school or summer program.  Click here to meet with me! 
And here are our 3 most recent newsletters
Best,
Eric