Every 4th newsletter I like to share something fun, personal and that has nothing to do with LIFT Enrichment's mission providing healthy culinary workshops for Title-1 schools.
Previously I wrote about living in Medellin, Colombia for one month, not drinking for 30 days and more. I find my audience of both our clients and Chef Teachers enjoy these fun detours every now and then.
Last year in January, I found myself in Medellin, a beautiful, very lush and green city with perfect weather, a very affordable lifestyle and an upbeat vibe. It's in South America, and the people there like to move and dance. You'll hear lots of reggaeton at restaurants, bars and night clubs.
There's an area called Poblano that really impressed me, which had some great restaurants, rooftop cocktail lounges and access to hiking, nightlife and the beach was a short flight away.
But this January, the change of scenery was much more profound. I traded the green mountains of South America with the high-tech modern glitz of the deserts of Dubai in the United Arab Emirates.
My main reason to go (or one might say "excuse") was for a series of workshops about international business, tax strategies and the latest marketing techniques in 2023.
The journey started with 32 hours of travel from my home in Phoenix, Arizona to my hotel in the Dubai Marina. It was 3 flights in total and included a 4-hour layover in Paris that turned into 8 hours. When life gives you lemons…you make a quick trip to the Eiffel Tower to sample some macaroons, walk through the streets, talk with very helpful Parisians who will book you a table at a crowded French restaurant and get to eat frog legs and other delicacies before getting back on a plane.
On Thursday morning at 4:00am, I arrived in Dubai and the first thing I noticed was
The architecture and design of the city is literally jaw-dropping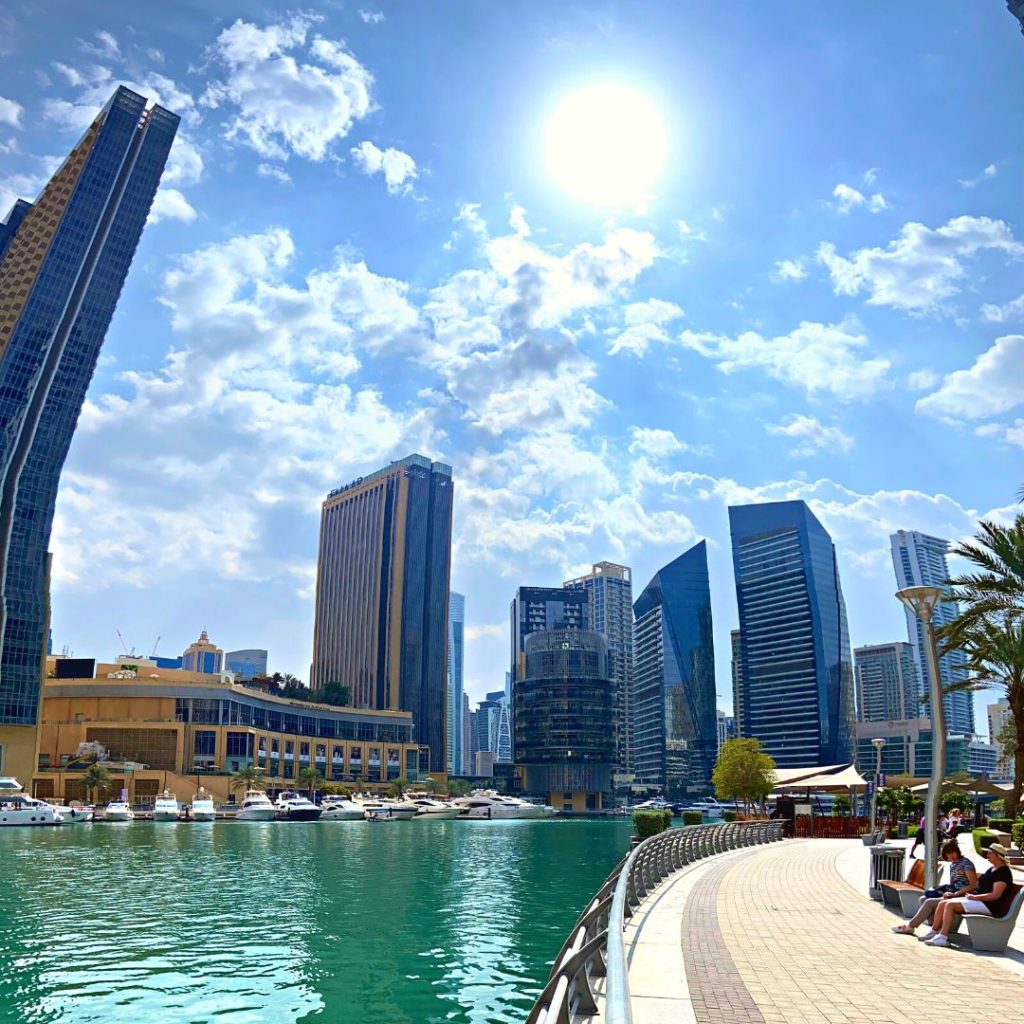 I've never been to a city in my whole life (and I've been to 30+ countries) where the minute I landed I was in complete awe of the size, scale and scenery of the city's development.
I'm not super into buildings or architecture (though I do a love good view!) but when you first see the skyscrapers, it's impossible not to be amazed by the sheer amount of them and the incredible designs.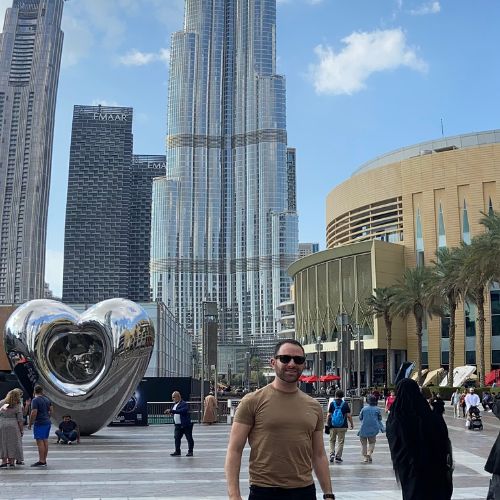 Most people know about the Burg Khalifa, the tallest building in the world that is over 160 floors. Tom Cruise famously ran, jumped and crawled up the Burj in one of the most stunning moments in movie history in the film Mission Impossible: Ghost Protocol
What most people DON'T know, until they are actually here, is how there are dozens of skyscrapers and very tall hotels, office spaces and condominiums in the dense areas called Dubai Marina and downtown
As you walk through the very safe, very clean and stylish streets, you can't help but look up and go "wow, this is a wealthy place." There's a lot of growth in the UAE, which is made up of 10 million people that will double in less than 20 years.
(Honestly, it doesn't feel any more expensive than life in Scottsdale, AZ)
But what's even more impressive is at NIGHT time. The whole city glows and pulses with wonderful lights from many of the buildings. I don't want to compare it to Vegas, because the Vegas strip is a purely tourist area, but it has some what of a similar vibe…if you multiplied it by 20…and added an ocean…and the world's tallest ferris wheel…and the world's tallest building with dancing fountains
2. The international community is a breath of fresh air
88% of Dubai is made up of foreigners, which tells you that people like to come here. Source
I've always enjoyed hearing different points of view from other countries (which is one of my favorite parts of traveling).
As an example, in 48 hours I talked to people from Italy (and I got to speak Italian!), France, Belarussia, Ukraine and more. A French woman told me how she preferred Dubai because there is more work opportunity (she's in real estate) than living in Paris. Also the French government scoops up 50%+ of her income…while in Dubai there are 0 payroll and income taxes.
When you make $80,000 a year, you get to keep $80,000 a year! This is not like in most Western countries where the average salaried employee sees 50%+ of their income go out the door in taxes they see and don't see (like gas taxes, corporate taxes, electricity taxes, phone taxes, etc).
Dubai definitely has a "hustle" vibe, because this isn't an inexpensive place to live. There are poorer parts of the country, located outside the city center, where workers will come from for construction or hospitality work.
And another thing that keeps them coming is
3.The weather in January is pretty great
It's been 75 degrees for most of my stay here, and 60s in the low. It's sunny and nice in January….while it's freezing everywhere else (including my quick trip to Paris where it was 36 degrees!). It has rained a bit in Dubai, but for no more than an hour or two.
Plus it's dry heat, with very little humidity
When you see people at the beach in January or enjoying the water on their mini yachts, you can't help but feel grateful!
(To be fair, Phoenix is also pretty nice in January.)
4. The business friendly environment
The sheiks who built Dubai and grew it from a bunch of sand dunes to a high-tech industry in less than 50 years used business and low taxes to incentivize investors and entrepreneurs. There is no payroll tax, income tax or corporate tax. There's only a 5% VAT tax (kinda like a US sales tax) when you buy products or services. There are also no government run programs like health care, welfare or schools (basically it's all private schools here).
It's definitely a draw for entrepreneurs with mobile businesses, and I'll be meeting with some local entrepreneurs to learn more about how it works.
There are also a lot less business regulations. When I ran a corporation in California, it was not just very expensive from a tax standpoint, but you also had to deal with tons of regulations that told you how to run your business. You can watch this video I made 2 years ago on why I moved from California to Arizona, and the healthier business environment was a key draw. I know many business owners in CA who spend a lot of time (and complain a lot) about the hoops they have to go through to run an honest and compliant company.
If I had known about Dubai in 2020…who knows where I would have been 😉
5. Lifestyle, it's very clean, very safe and very fun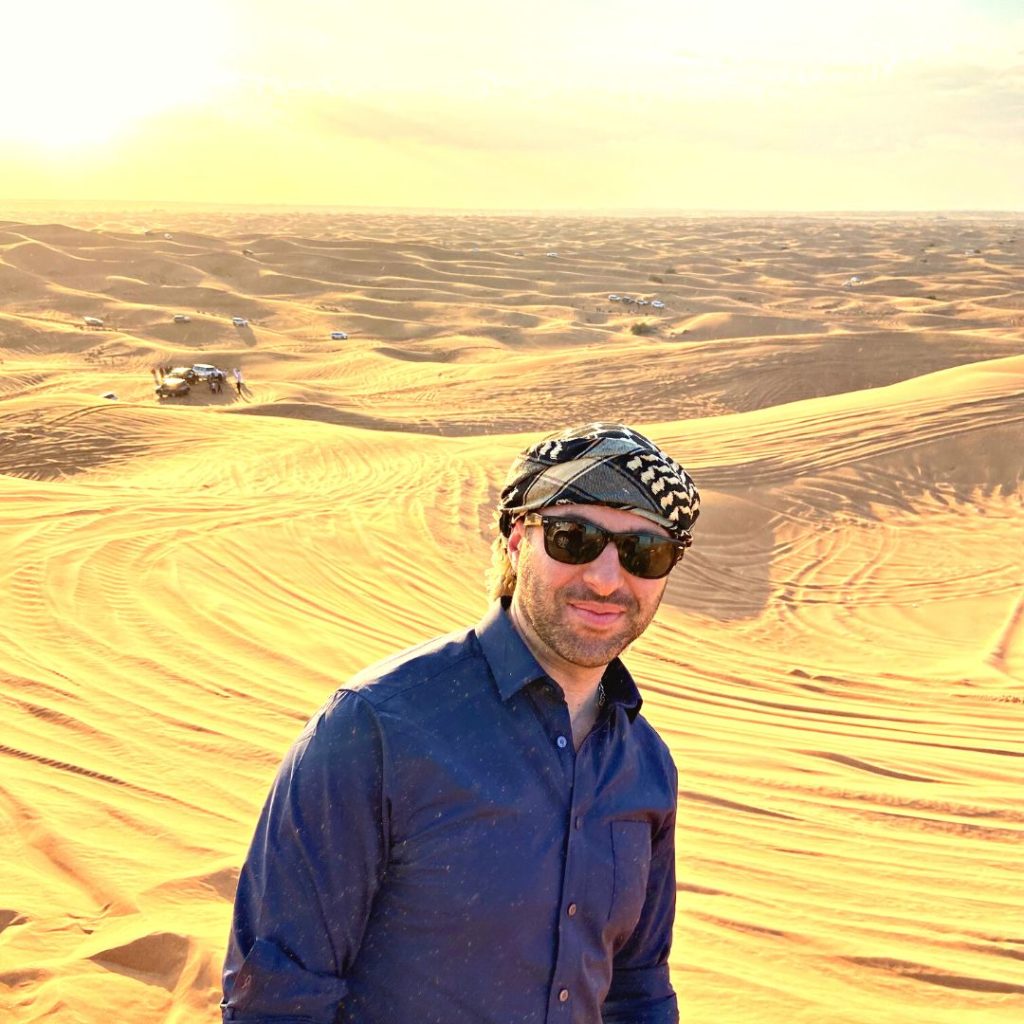 Dubai is great a place with a lot to do if you like cities. I could try new restaurants, lounges, concerts, day excursions into the desert and more without repeating the same one twice. In the two big hugs (marina and downtown) everything is a short Uber or walk away.
Dubai aksi has the biggest mall in the world (if you're into shopping).
Plus, it's one of the safest cities in the world, and I've talked to local women who appreciate how safe they feel at night when walking home.
It's also very clean, as I haven't seen any homeless people and there's no trash on the streets.
All the big name concert performers come through this city. Some even come for private events. Everyone was talking about how a few days ago Beyonce had a private show at Hotel Atlantis and was paid $24 million for a 73 minute performance!
I hope you enjoyed this post! Let me know in the comments if you'd like more of these types of newsletters.
Go explore, have fun and surf some dunes!
See our previous blogs:
4 Things Not To Do In A Cooking class
The 3 Most Popular Grants That Fund Healthy After-School Culinary Workshops For Students
Paris, Dubai and Your Invite to a VIP Client Appreciation Dinner
If you're a Title-1 school who sees how LIFT Enrichment has learned from their mistakes and still provides high-quality health culinary workshops as an after-school or summer program. Click here to meet with me!
Best,
Eric