LIFT Enrichment's Mission
To help kids become smarter, healthier adults through top-notch Cooking after-school classes and camps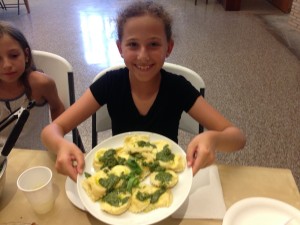 How We Teach Cooking Classes
Grades K-5th 
1-hour classes teach kids how to cook from scratch, learn about nutrition and culinary basics  We believe cooking is an important, lifelong skill that allows kids to appreciate food, where it comes from and how it effects your body.  Students who learn to cook when they're young will have the tools to feed themselves, friends and family and share in the communal experience of eating a good meal together.
No kitchen required!  Our Chef Teachers come equipped with hot plates and plenty of cooking supplies to make Ratatouille with Garlic-Herb Toast, Pasta with Cherry Tomatoes, Mozzarella and Fresh Basil, Italian Donut Holes, Fish Sticks with Fresh Salmon and more.  We only need a room with a sink nearby, an electrical outlet, tables and chairs.
We cook with lots of vegetables to expand a child's palate  Our recipes in an  8-10 class session incorporate a variety of vegetables including: kale, eggplant, zucchini, tomatoes, bell peppers, asparagus, beets and more!
We accommodate vegetarians each class   Each session features two, healthy proteins such as dish that features chicken, fish or beef but we also have substitutions so our vegetarian students can enjoy the class.
Kitchen Safety is Number 1  Each class our Chef Teachers share our rules, tips and tricks to make sure cooking is fun AND safe.  Kids will learn to chop, using metal butter knives, so they learn to handle and cut vegetables.  We'll also teach mixing, measuring, whipping, sauteeing and much more!
Sample Curriculum:  Eggplant Parmesan, Hearty Vegetable Soup, Pasta with Tomatoes, Mozzarella and Fresh Basil, Shredded Chicken Tacos with Queso Fresco, Parmesan Fish Sticks with Fresh Salmon, Kale Caesar Salad, Zeppole, an Italian Donut Hole, "Choco Tacos" with Vanilla Ice Cream
Kid Restaurant Experience for Parents!  Each session ends with a Kid Restaurant where parents are invited to an experience where their kids are both the waiter and the chef.
Includes a Full-Color Cookbook!  Kids will received a full-color, bounded cookbook each session featuring all of the recipes.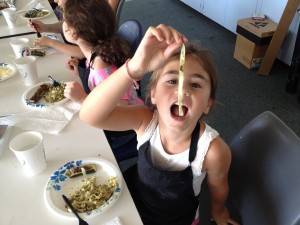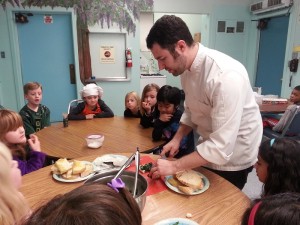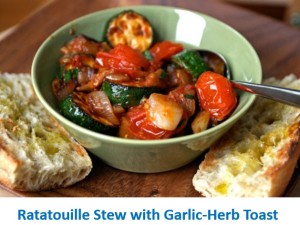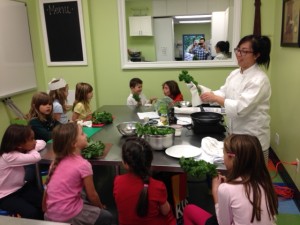 Testimonials
"Jacob absolutely adored Cooking For Kids. Every Wednesday he brings me some of what he's made to try and he's SO PROUD. Plus it has totally opened up a whole new world of food for him!"
– Susanna, parent
"My son loved the Cooking Class at Echo Horizons …he was always excited to go afterschool, and he seems so proud of what he cooked, saving a portion for us when we picked him up. I feel that the experience of a cooking class helped him become confident in the kitchen, and made him excited to help prepare meals as a family!"
– China, parent