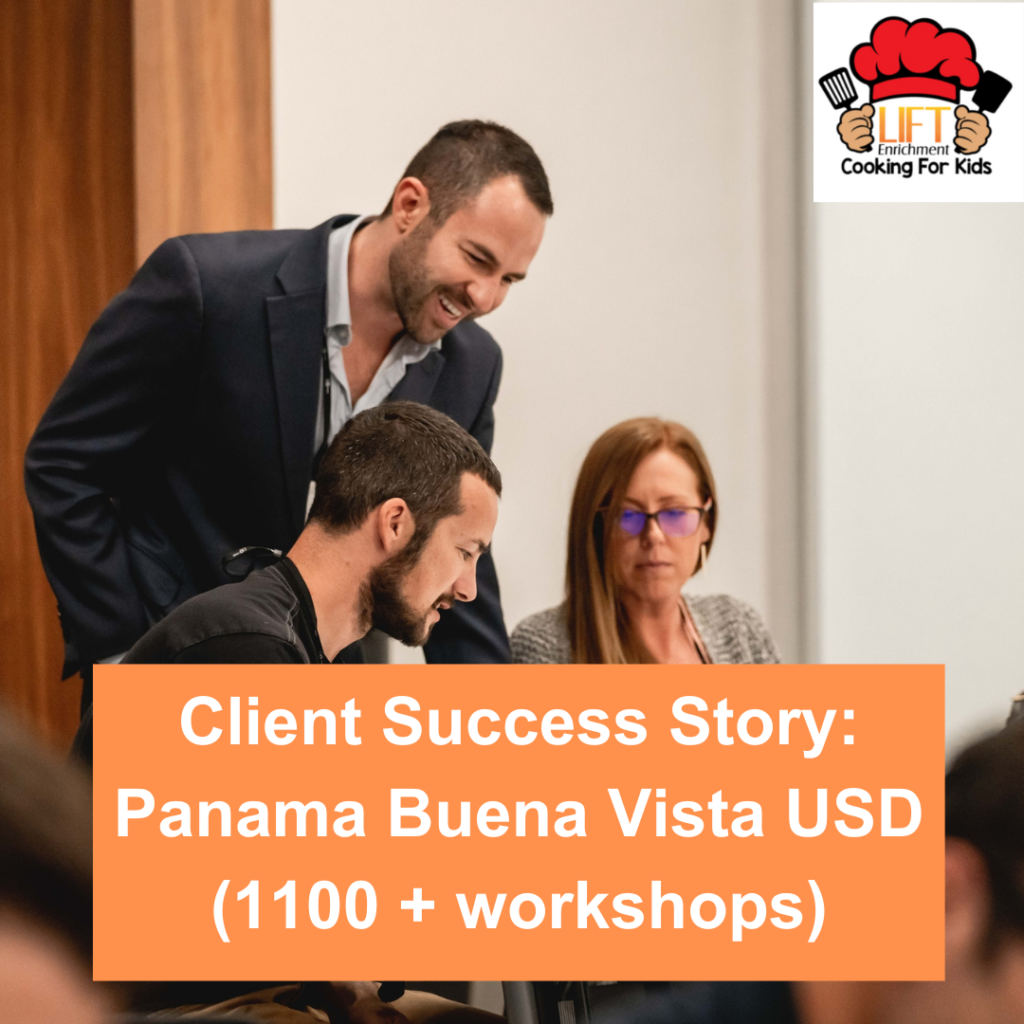 From Eric Horwitz, CEO / Occasional Writer of Newsletters En Route From Phoenix to Seattle.

The biggest change we've made in the past few years that catapulted LIFT Enrichment's success was moving from teaching after-school cooking classes at private schools using a parent-paid model to focusing on Title-1 schools with access to after-school grants. You can read about that decision here: The 3 Most Popular Grants That Fund Healthy After-School Culinary Workshops for Students.

Here are the results of that:
We grew the entire company 10x in a year.
We grew from a team of about 20 to 80+ (13 internal team members and 70+ Chef Teachers)
We are now able to teach in-person workshops to ANY district provided there are at least 5-6 sites within a 20-minute drive of each other. This is so that we can staff them with local instructors.
We now have a leadership team that includes our new President (Meet Our New President – Slava Repetina), Sales Director, and Operations Director. Each director has a team below them (and we will keep growing).
We taught 12,000 students last school year, a new high!
The next pivot, made within the past few months is this: Only school districts. We used to work with several individual sites (we are still working with a few single sites that are grandfathered in) but the majority of our clients are strictly districts.
Here are a few client case studies that moved us in this direction:
Districts Have a Lot of Schools to Work With, and One Main Contact:

Example: Panama Buena Vista USD: We first connected with the after-school coordinator at BOOST (Three Highlights from BOOST 2023 (and one HUGE mistake) and taught a Spring 2023 session that went well in Bakersfield, CA. We taught at 17 sites and did a great job thanks to a team of amazing Chef Teachers.
With the success of the Spring, trust was built and soon the client opened up an opportunity to teach a lot more workshops during the school year.
There was a moment I'll remember. I was in North Scottsdale at the Audi dealership getting my car repaired and had a brief call with my contact at the district. (At the time, I was still in charge of the majority of sales… but not anymore now that I have a great team in the Sales and Marketing departments).
He wanted the 17 sites to have a 10-week session in the fall, winter, and spring. Each site would service 40-100+ students. The total amount was 1,100+ workshops! We had just tripled one of our biggest purchases ever and we know exactly how we will service it!
A similar thing happened with our other big district clients: Palm Springs USD, Val Verde USD, Jurupa USD, Pomona, and many more! Thanks to them our pipeline is now purely districts.

We Have One Contact for the Districts, and that makes everything easier and more fluid:

When we work with a variety of charter schools, it requires a separate proposal and relationship with each vendor. For some of our favorite charter schools (like Aspire!), we make it work, but it's become increasingly time-consuming to have a new proposal for each site. In a district with 10 sites, we have 1 contact and 1 proposal. For a group of charter schools with 10 sites, it requires 10 proposals. Plus, if one site doesn't agree to a specific day or time, the whole schedule could be thrown off.

Staffing is Easier for Districts (Our 6-Day Rule):

The biggest fear of a new client we work with is this: ¨I'm about to buy a lot of in-person after-school workshops, what if LIFT Enrichment isn't able to provide the necessary staff?¨ If this happens, we have to reschedule the workshop and disappoint the students. Thankfully we have a 97% success rate when it comes to workshop success. That number reflects teaching up to 5,000 students a week and goes down only when a site has to move a date that we had on the calendar, a Chef gets sick, or other reasons. We're realistic about our expectations.
We now only work with Districts that have plenty of sites because it makes staffing EASIER for us and the client. The key part is to have enough Chef Teachers to have backups on call. Our Chefs work about 2-4 days a week.
If we have 6 sites, and we teach Monday, Tuesday, Wednesday, Thursday, Friday, and a second site on Mondays, we can hire 3 Chef Teachers, and if one is sick or doesn't work out (which does happen), we have 2 Chefs to step in.
If we only have 4 sites (Monday, Tuesday, Wednesday, and Thursday) we can only hire 2 chefs and no backups. If a chef is sick or doesn't work out, we have to cancel workshops and spend weeks hiring and training a new chef.
If we have 15 sites, we can hire 6-8 chef teachers and have a ton of backups. It makes it easier and if anything changes, we have many chefs who are hungry to teach more workshops. It's awesome and helps us fulfill our promise: to staff all of your sites for every session going forward.
If you know any school district with at least 3 sites, you can send them this link below.
Here is a link to book a meeting with our team
We can bring our Healthy Culinary Workshops to your school districts in 2024.
Previous Newsletters
Meet Our New President Slava Repetina, Exploring Mexico, Three Highlights from Boost 2023 (and one Huge mistake), The Two Big Ways We Hit 7 Figures (and Rebounded Post-Covid)
Best,
Eric Horwitz